Arena Wien - Dreiraum
Baumgasse 80, 1030 Wien
Jetzt Tickets sichern unter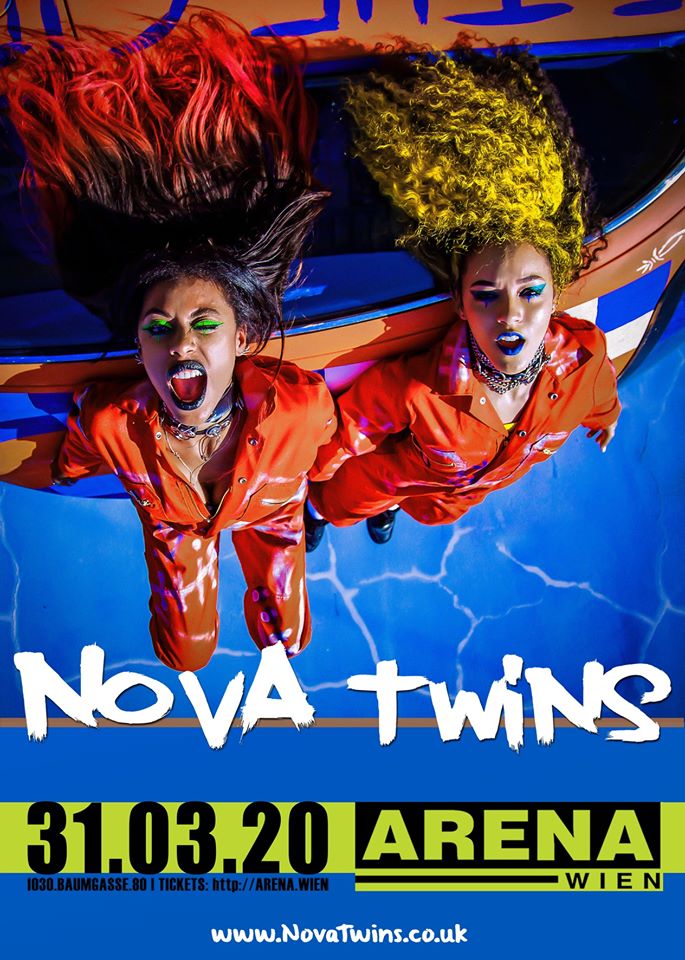 The strong bass guitar of Georgia South and the incisive vocals of Amy Love are the driving force of Nova Twins. Bringing their self-penned songs to life and refusing to conform to any template, the duo fuse bass-heavy, grimey-punk and rock. Taking inspiration from all sonic corners via bands like N.E.R.D., The Prodigy, Missy Elliott, Princess Nokia and Rage Against The Machine, the best friends have captured fans with their high-octane approach.
When you've never seen yourself in music, there's an opportunity to build something from nothing. To make tracks that don't sound directly like anyone else's. "We had to work out our identities within music because we never had a reflection," says Georgia South, Nova Twins bassist. "This is a 21st-century take on rock. It's so many things." Singer and guitarist Amy Love adds with a smile, "It's the NOVA sound."
The duo are currently wrapping up their debut album with renowned producer Jim Abbiss (Adele, Kasabian, Arctic Monkeys) due for release at the start of 2020. It follows their latest and lauded singles: 'Devil's Face' and 'Vortex'.
Over the summer, the band turned heads preforming to packed-out tents during the busy festival season, stopping at Open Air Gampel, Boomtown, Download, Hellfest and Nova Rock to name a few. Following the success of support slots with Wolf Alice and Ho99o9, the duo were invited on tour with Prophets Of Rage, smashing it every night across Europe. Soon after, they were off supporting legends, Skunk Anansie. Nova Twins are also the featured artists in the current Dr Martens A/W campaign – you may have already spotted them on posters and in stores around the world!
Amy and Georgia use their platform to champion inclusivity and diversity with their high-octane, genre-warping approach. The Nova Twins modus operandi is to take socio-political experiences from their day-to-day and turn it into something their fans can lose themselves in. Effortlessly cool in not only their musical output, but in every element of what they do creatively as artists. From designing and making their own outfits for all videos, photoshoots and stage wear to the art direction on their videos. Something that clearly caught the eye of Dr. Martens, making the girls the face of their current A/W campaign – you may have already spotted them on posters and in stores around the world!
www.facebook.com/NovaTwinsMusic