VIOLENDGROOVE DAYPARTY // TOKYO DRIFT VIENNA
Das Werk Spittelauer Lände 12, 1090 WIEN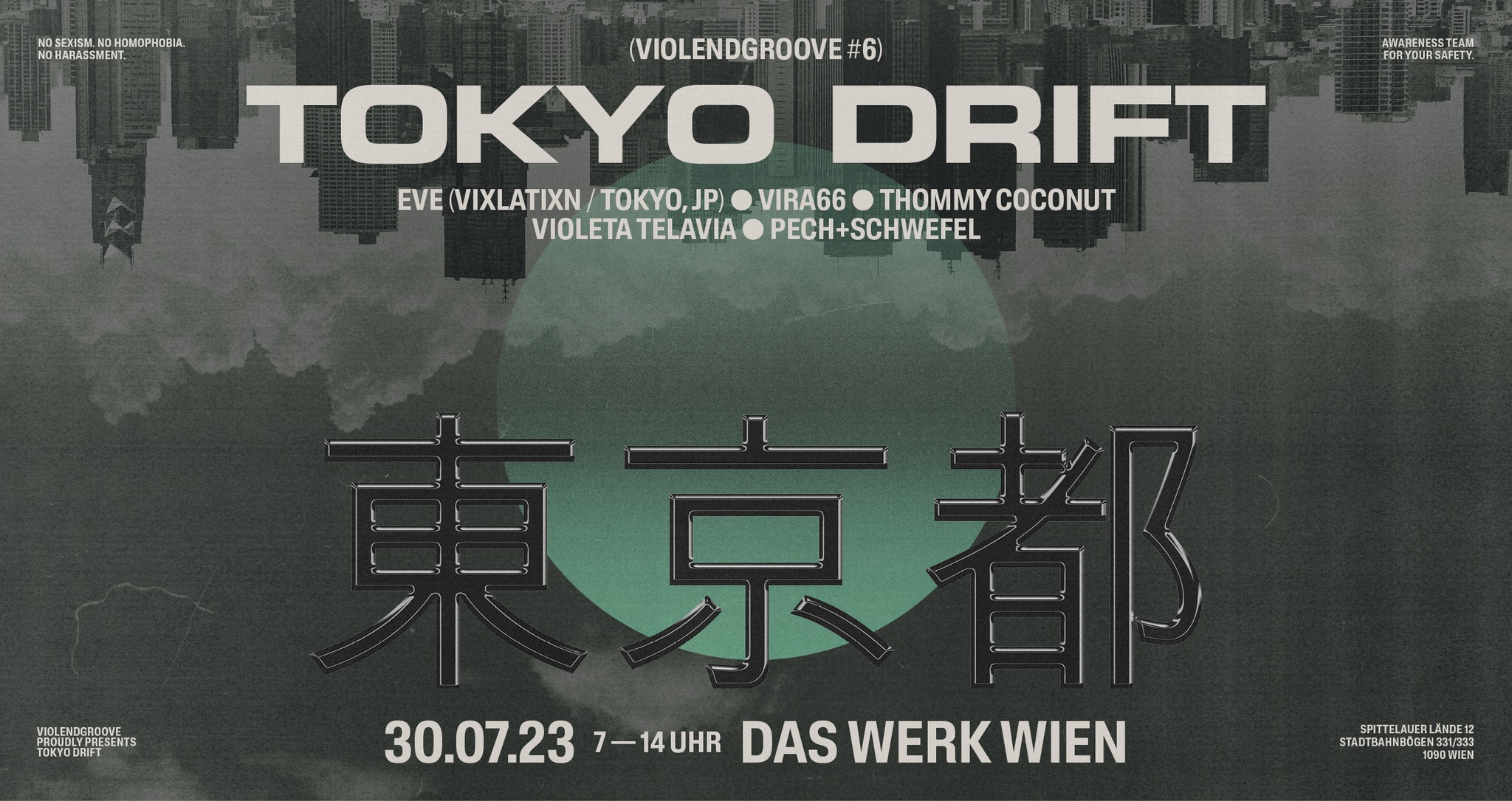 𝙑𝙞𝙤𝙡𝙚𝙣𝙙𝙜𝙧𝙤𝙤𝙫𝙚 𝙨𝙚𝙫𝙚𝙣
𝙏𝙤𝙠𝙮𝙤 𝘿𝙧𝙞𝙛𝙩 𝙑𝙞𝙚𝙣𝙣𝙖
With talent hailing from Tokyo and the US we are presenting an unforgettable daytime event at 'das WERK' with a special lineup featuring
» EVE (Vixlatixn – Tokyo, JP)
» VIOLETA TELAVIA (South First Recs – New York, USA — AT)
» PECH+SCHWEFEL (South First Recs, Violendgroove – AT)
» THOMMY COCONUT (Violendgroove – AT)
» VIRA66 (Violendgroove – AT)
𝙂𝙚𝙣𝙚𝙧𝙖𝙡 𝘼𝙙𝙢𝙞𝙨𝙨𝙞𝙤𝙣
15€
DasWERK Wien
07:00 – 14:00 Uhr
Spittelauer Lände 12, 1090 Vienna
𝙉𝙤 𝙝𝙖𝙧𝙖𝙨𝙨𝙢𝙚𝙣𝙩 – 𝙉𝙤 𝙃𝙤𝙢𝙤𝙥𝙝𝙤𝙗𝙞𝙖 – 𝙉𝙤 𝙎𝙚𝙭𝙞𝙨𝙢
𝘼𝙒𝘼𝙍𝙀𝙉𝙀𝙎𝙎 𝙏𝙀𝘼𝙈 𝙁𝙊𝙍 𝙔𝙊𝙐𝙍 𝙎𝘼𝙁𝙀𝙏𝙔
𝘼𝙧𝙩𝙬𝙤𝙧𝙠 𝙗𝙮 𝙇𝙪𝙠𝙖𝙨 𝘿𝙞𝙚𝙢𝙡𝙞𝙣𝙜
𝘼𝙧𝙩𝙞𝙨𝙩 𝙞𝙣𝙩𝙧𝙤𝙙𝙪𝙘𝙩𝙞𝙤𝙣
𝙀𝙑𝙀 is a staple artist in the underground techno / hardcore scene in Tokyo with her own imprint VIXLATIXN.
𝙑𝙄𝙊𝙇𝙀𝙏𝘼 𝙏𝙀𝙇𝘼𝙑𝙄𝘼 , a transatlantic DJ Duo from New York / Graz, head of Violendgroove with forthcoming releases on Unsolved , South First and eartheaters 'chemicalX records' merging hardgroove and fast paced techno in their sets and productions.
𝙋𝙀𝘾𝙃+𝙎𝘾𝙃𝙒𝙀𝙁𝙀𝙇 – Violendgroove residents and top notch producer duo Franco and Leonhard recently remixed DJ FRANKIE BONES on Brooklyn based SouthFirst Records. Their love for 90s techno is hard to trump.
𝙏𝙃𝙊𝙈𝙈𝙔 𝘾𝙊𝘾𝙊𝙉𝙐𝙏 – a staple in the Graz & Vienna underground scene and resident at Violendgroove, blessing you with a vinyl set mixed with some digital originals.
𝙑𝙄𝙍𝘼66 – violendgroove's new face Viktoria made a name for herself in a rather short time. From gigs in Poland, Vienna and recently at the infamous Dom im Berg at spring festival Graz she's merging fast paced techno with Breakbeats.