Camera Club Neubaugasse 2, 1070 WIEN
Letzte Chance ... vorbei! Dieses Gewinnspiel ist bereits vorüber. Die glücklichen Gewinner wurden per E-Mail benachrichtigt.
Teilnahmeschluss: 04. Oktober 2023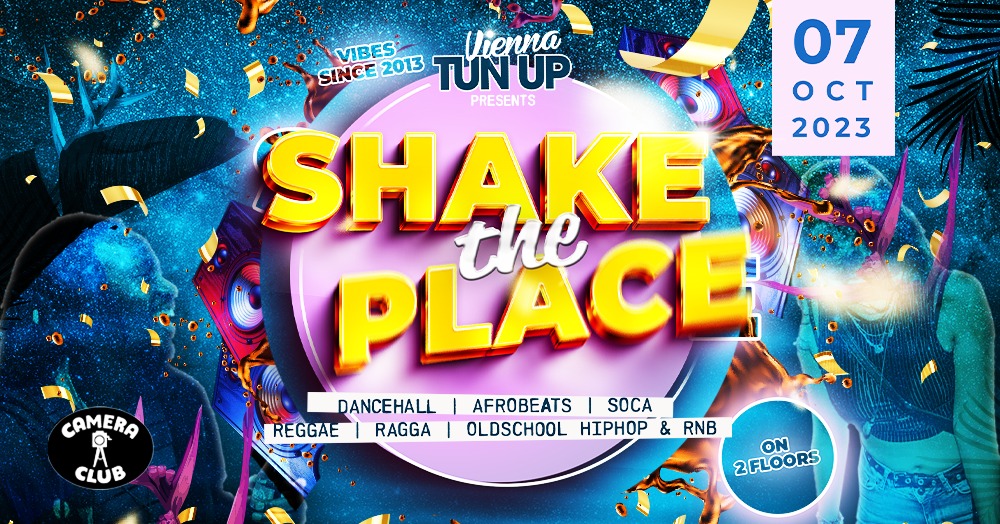 SHAKE the PLACE presented to you by Vienna TUN UP – Vibes since 2013.
After our amazing Season Kick off with you, we are more than happy to do it all again next month – expect some special announcements too, watch this space!
Our mission is our vision:
To provide you with new music, new vibes, a new party experience, more inclusion and more cultural exchange – yet we want to also celebrate the good old.
Come find it all:
Dancehall
Afrobeats
Soca
Reggae
Ragga
Oldschool Hip & Hop RnB
and surely many more musical influences
Be sure to check out both floors to get the full experience:
DOWNSTAIRS
Dancehall/Afrobeats/Oldschool HipHop & RnB/Soca by
Dj 3gga
Mr Fete
Rooftop Enterteinment aka Simplest & Simplicity
UPSTAIRS
Original Reggae/Ragga/Dancehall by
Baba Sound
Badfish Sound
Fisherman Sound
Get in the groove, also enjoy the Cocktail Bar at Camera Club and until then, watch this space for our special announcements!