SHAKE the PLACE

2.9. - Season Kick Off
Camera Club Neubaugasse 2, 1070 WIEN
Letzte Chance ... vorbei! Dieses Gewinnspiel ist bereits vorüber. Die glücklichen Gewinner wurden per E-Mail benachrichtigt.
Teilnahmeschluss: 31. August 2023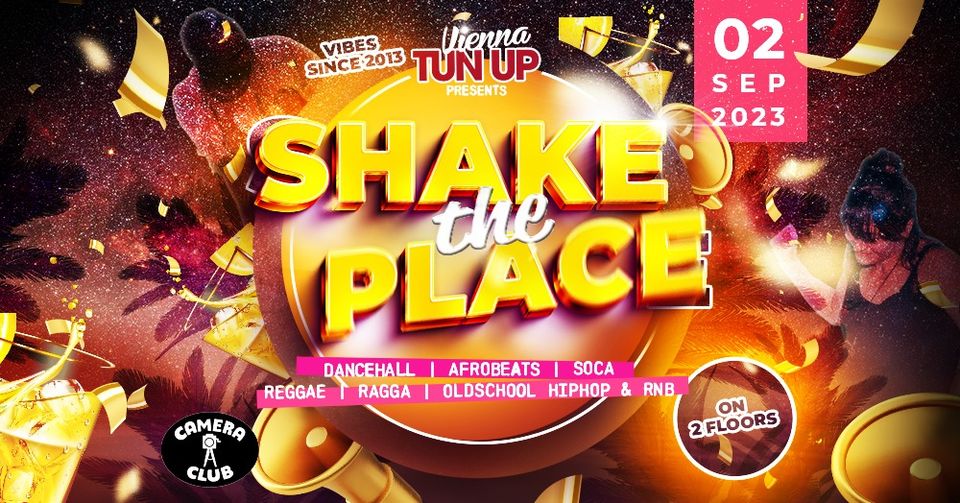 SHAKE the PLACE
presented to you by Vienna TUN UP – Vibes since 2013!
We feel truly blessed for your support over all those years!
As we are not tired at all, we're still on a mission, we want to enter our new decade providing even more to you:
➩ more music
➩ more vibes
➩ more party
➩ more experience
➩ more cultural exchange!
Come and join us when we SHAKE THE PLACE with tastes of
Dancehall
Afrobeats
Soca
Reggae
Ragga
Oldschool Hip & Hop RnB
and surely many more musical influences!
We party on 2 floors:
DOWNSTAIRS
Dancehall/Afrobeats/Soca/Oldschool HipHop&RnB by
Dj 3gga
Mr Fete
Rooftop Entertainment aka Simplest & Simplicity
UPSTAIRS
Original Reggae/Ragga/Dancehall by
Baba Sound
Clean Heart Sound
Mink
And don't forget: To complete the feeling, Camera Club also provides a Cocktail Bar!
Let's kick off a new Aera exploring and embracing new music, new cultures, new grooves – we see you on the dancefloor!
2.09.2023, doors open 23:00, Camera Club
€ 8,- vor 0 Uhr, € 12,- danach!