RAVE ON XXL - The 2nd Invasion
EXIL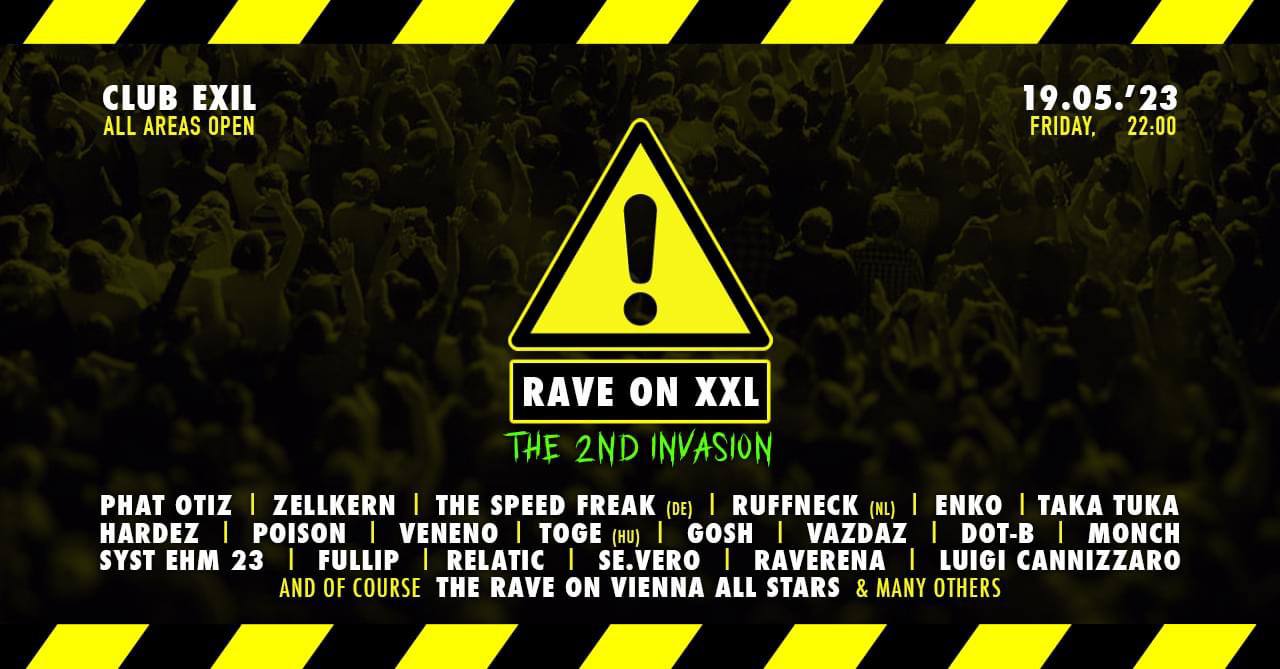 ⚠️ Dear Ravers! ⚠️
We didn't make parties a while ago so we thought it's time for another huge one.
After the 1st XXL madness in Exil we're back with a crazy line-up to reunite our Rave Forces.
Get ready for the 2nd Invasion!
Facts:
⚠️ 90's Rave, Tekno, Core on full capacity of Exil
⚠️ Over 20 international & local DJs & live acts
⚠️ Massive Lambda Labs Sound System in every room
⚠️ Laser Show & Visuals
⚠️ Shopping Area, Food Corner & much more
⚠️ Vvk tickets available (scroll down for it)! AK as well!
⚠️ Age requirement: 18+! (Don't forget to bring your ID-card)
This time we're banging your eardrums with a dutch Hardcore Originator who have been producing hard raving beats way before Hardcore got its name as music genre & a german Hard and Frenchcore pioneer who started in the year 1990 & been also there with a track at the very 1st Thunderdome compilation's tracklist. Since we're big fans of the 90's & early 2000's hard electronic sounds, we invited our mainacts for playing OldSkool sets & they both accepted our time-traveling challenge.
What about the local strengthening? It will be just as mindblowing as our foreign guests!
Legendary & Freshly booming artists from Tek & Core scene …
and of course: there won't be lack of our beloved 90's Rave styles either!
Line-up:
★ RUFFNECK (NL)
★ THE SPEED FREAK (DE)
★ ZELLKERN
★ ENKO
★ HARDEZ
★ TAKA TUKA
★ PHAT OTIZ
★ TOGE (HU)
★ VAZDAZ
★ DOT-B
★ POISON
★ RELATIC
★ DA MONCH
★ VENENO
★ RAVERENA
★ LUIGI CANNIZZARO
★ FULLIP
★ SYST EHM 23
★ GOSH
★ DJ SON VOORHEES
★ FULMEISTER KRAUSE
★ SE.VERO
★ MICK GABBEAR
⚠️ RAVE ON! ⚠️
_ _ _ _ _
Early bird & VVK tickets here:
https://sunmoon.ticket.io/cngqz168/
_ _ _ _ _
How to get there?
Walk from "Siebenhirten" (U6) or "Vösendorf – Siebenhirten" (Badner Bahn)
Address: Marktstrasse 13, Club Exil
_ _ _ _ _
* Important! Our invasion do not support the war in any form!
Our forces are standing united for the love of Rave Music!