OZ w/ Purple Disco Machine
O - Der Klub Operngasse/Opernring, 1010 Wien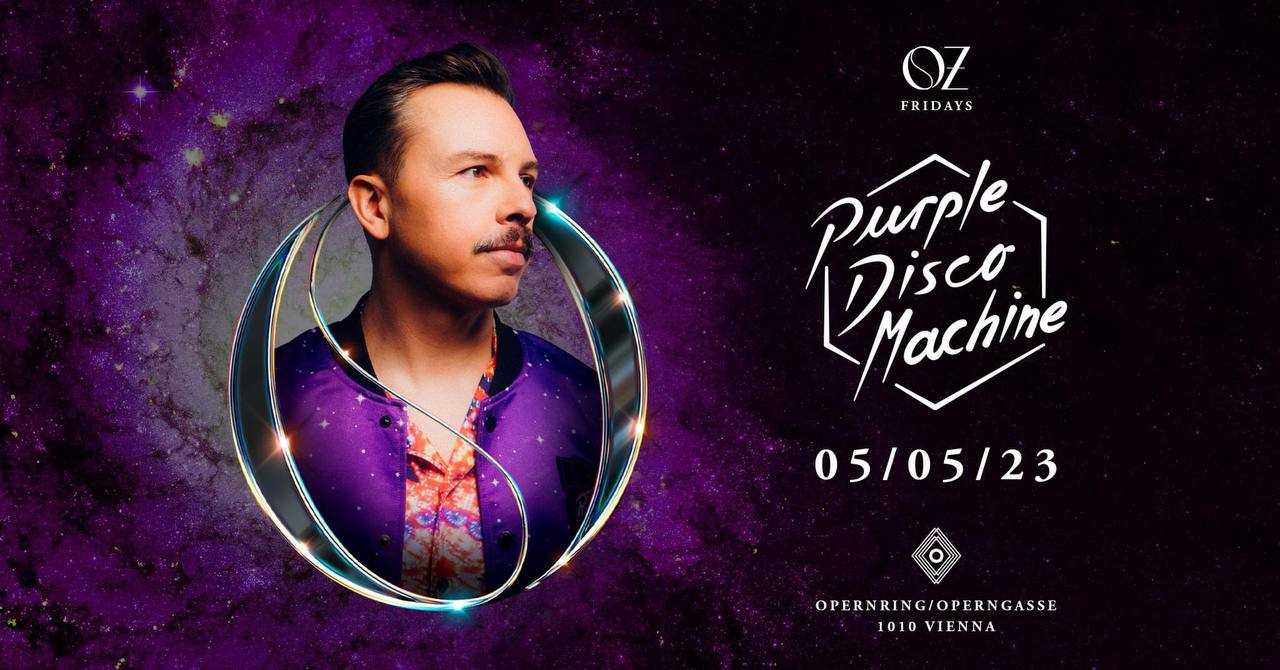 Please welcome…
▀▀▀▀▀▀▀▀▀▀▀▀▀▀
Purple Disco Machine
▀▀▀▀▀▀▀▀▀▀▀▀▀▀
It's all about dopamine and a box full of glitter. With over 500 million global streams to his name, it's time to welcome the freshly baked Grammy winner back to Vienna. 🕺
▬▬▬▬▬▬▬▬▬▬▬
MAIN FLOOR
▬▬▬▬▬▬▬▬▬▬▬
Soundsystem by L-Acoustics
Supported by
▌MARCO DI LORENZO B2B TONI
▌SERGIO FLORES
▌SUGARSTARR
▬▬▬▬▬▬▬▬▬▬▬
SALON WASABI
▬▬▬▬▬▬▬▬▬▬▬
This place shines in a completely new guise and splendour.
Proudly equipped with Lambda Labs Soundsystem.
▌tba.
▬▬▬▬▬▬▬▬▬▬
KONSULAT
▬▬▬▬▬▬▬▬▬▬
Secret Floor w/ Hip Hop & Urban Sounds
▌DJ CARSA
▌DJ ORLANDO
▬▬▬▬▬▬▬
▌Hï Ibiza 2022:
https://www.youtube.com/watch?v=yRYPwUxAGLQ
▌Printworks London:
https://www.youtube.com/watch?v=rKbRQ8q52TA&t=3327s
▌SoundCloud:
https://soundcloud.com/purplediscomachine
ENTRY & RESERVATION
▬▬▬▬▬▬▬▬▬▬▬▬▬▬▬▬▬▬▬
▌Strictly limited Early-Birds: 15€
▌Shop: http://tickets.o-vienna.at/
▌Tables & Loges: reservation@horst-group.com
His journey to OZ…
Tino Piontek from Dresden will not only arrive with the most significant music award worldwide to his honour for his remix of the single About Damn Time by US singer Lizzo but also a huge box full of glitter and dopamine. From the moment the first notes hit the airwaves, you can feel the excitement building, drawing you into his world of disco and dance music.
… and soon, he will be back at O – der Klub playing at our spaceship under the state opera.
▬▬▬▬▬▬
LOST & FOUND:
lostandfound-o@horst-group.com
AGE: 19+
Follow us on Instagram:
@o_der_klub
@oz.fridays