O - Der Klub Operngasse/Opernring, 1010 Wien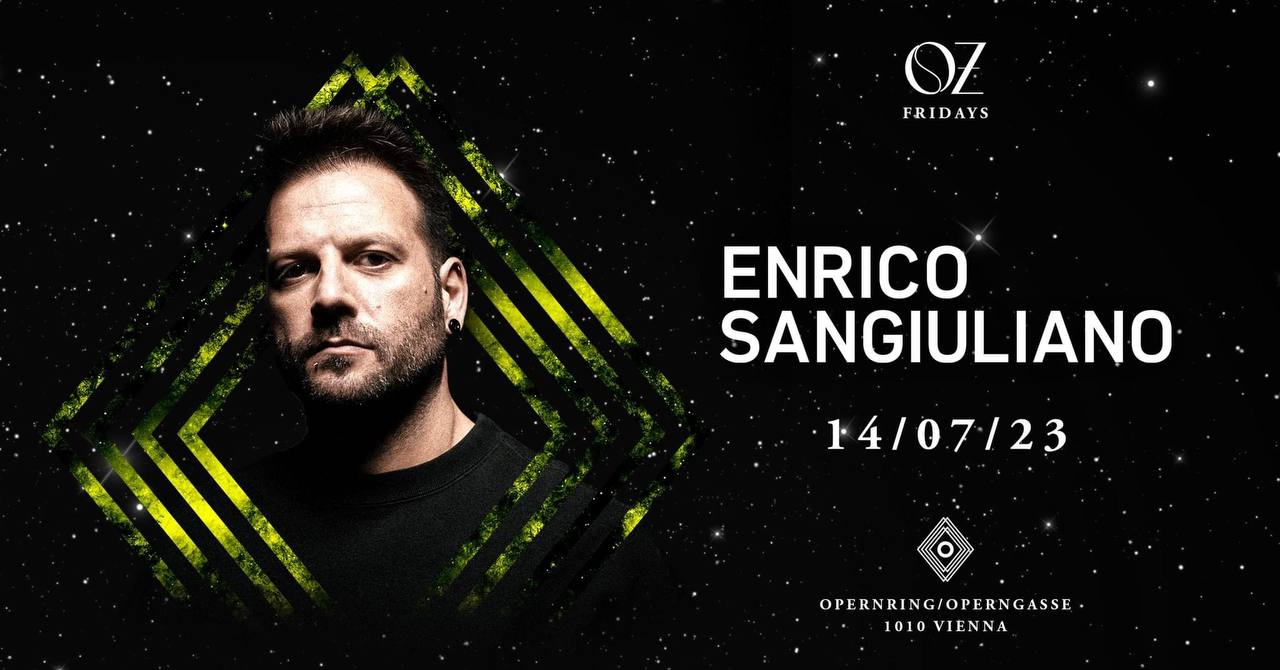 Please welcome…
▀▀▀▀▀▀▀▀▀▀▀
ENRICO
SANGIULIANO
▀▀▀▀▀▀▀▀▀▀▀
A true Techno legend is returning to Vienna. Enrico Sangiuliano has made a significant impact on the electronic music scene. His hard-hitting beats, driving basslines, and atmospheric synths create a unique sound that has earned him global recognition. He is known for blending different genres and styles into his music and delivering electrifying live performances. And soon, he will be playing under the state opera! 🚀
▬▬▬▬▬▬▬▬▬▬▬
MAIN FLOOR
▬▬▬▬▬▬▬▬▬▬▬
Soundsystem by L-Acoustics
Supported by
▌MARK MICHAEL
▌ALBIN BREZLAN b2b HUEBL
▌TOMAGAN
▬▬▬▬▬▬▬▬▬▬▬
SALON WASABI
▬▬▬▬▬▬▬▬▬▬▬
This place shines in a completely new guise and splendour.
Proudly equipped with Lambda Labs Soundsystem.
▌BONO b2b CHRIS MILLER
▌DANA MELISSA
▌PETRIK
▬▬▬▬▬▬▬▬▬▬
KONSULAT
▬▬▬▬▬▬▬▬▬▬
Secret Floor w/ Hip Hop & Urban Sounds
▌DJ Carsa
▌DJ Orlando
▬▬▬▬▬▬▬
Enrico Sangiuliano's journey to OZ:
Embarking on his newest exploration in sound design, the Italian production maestro recently announced the launch of his 10-chapter, transient record label NINETOZERO. Enrico Sangiuliano's passion for music is evident in everything he does, and his talent as a producer and musician is genuinely exceptional. His music highlights the evanescent beauty of contemporary club culture.
▌Soundcloud:
https://soundcloud.com/enricosangiuliano
▌Ultra Music Festival 2023:
https://www.youtube.com/watch?v=yp5FRbpQbHM
▌Tomorrowland 2022:
https://www.youtube.com/watch?v=LudSGbKYM6g
ENTRY & RESERVATION
▬▬▬▬▬▬▬▬▬▬▬▬▬▬▬▬▬▬▬
▌Strictly limited Early-Birds: 10€
▌Shop: http://tickets.o-vienna.at/
▌Tables & Loges: reservation@horst-group.com
▬▬▬▬▬▬
LOST & FOUND:
lostandfound-o@horst-group.com
AGE: 19+
Follow us on Instagram:
@o_der_klub
@oz.fridays