OZ Fridays Season Opening

w/ Sven Väth & Friends
O - Der Klub Operngasse/Opernring, 1010 Wien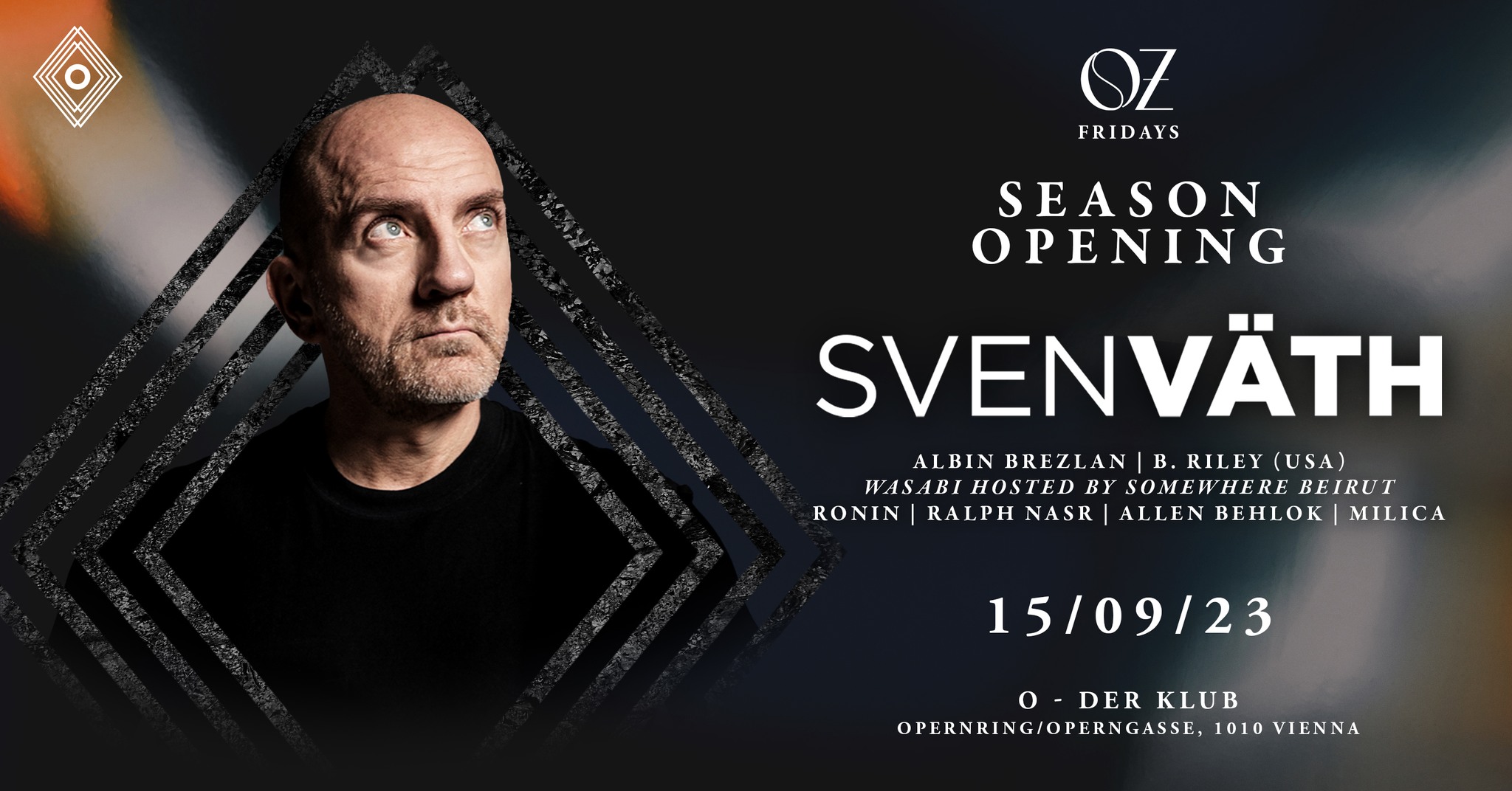 LET'S START THIS NEW SEASON
WITH A LEGEND
Please welcome back…
SVEN VÄTH
The message is simple:
be balanced, be mindful,
be present, be here.
Sven Väth is quite simply unique.
A legend in his own lifetime with
a commitment and passion that
has influenced the advance and
evolution of electronic music.
Clubs, record labels, and careers
have been launched.
1981 and Frankfurt it started.
Behind the decks for over 40 years.
Vinyl then, vinyl now.
MAIN FLOOR
Soundsystem by L-Acoustics
Supported by
▌ALBIN BREZLAN [NINE O NINE]
▌B. RILEY [CMND CTRL | USA]
SALON WASABI
Proudly equipped with
Lambda Labs Soundsystem
Hosted by Somewhere Beirut
▌MILICA [MUSIC ON | UK]
▌RONIN [SOMEWHERE | BEIRUT]
▌RALPH NASR [RETROGROOVE | BEIRUT]
▌ALLEN BEHLOK [RETROGROOVE | BEIRUT]
KONSULAT
Secret Floor w/ Hip Hop & Urban Sounds
▌DJ DENZORO & FRIENDS
ENTRY & RESERVATION
▌Strictly limited Early-Birds: 15€
VIP TABLES & LOGES
Click here and your wonderful VIP experience starts now
or
Don't hesitate to write us an email at any time:
reservation@horst-group.com
or
Use our WhatsApp-Service +43 676 9701545
SVEN'S JOURNEY TO OZ
At a Sven gig you are in a performance with no one knowing quite what is going to happen. It has always been so. You will always feel invited and you will always see the heart of the man. That heart belongs to the crowd. Everyone is a VIP. Sven Väth is rock and roll.
The most charismatic DJ of his generation is more vital and relevant than ever. Utterly professional, utterly unpredictable. No one else like him. Not even close.
& soon, exactly one year later he will be back with us under the Vienna State Opera again!
LOST & FOUND:
lostandfound-o@horst-group.com
AGE: 19+
Follow us on Instagram:
@o_der_klub
@oz.fridays