OZ

w/ MASSANO [Afterlife]
O - Der Klub Operngasse/Opernring, 1010 Wien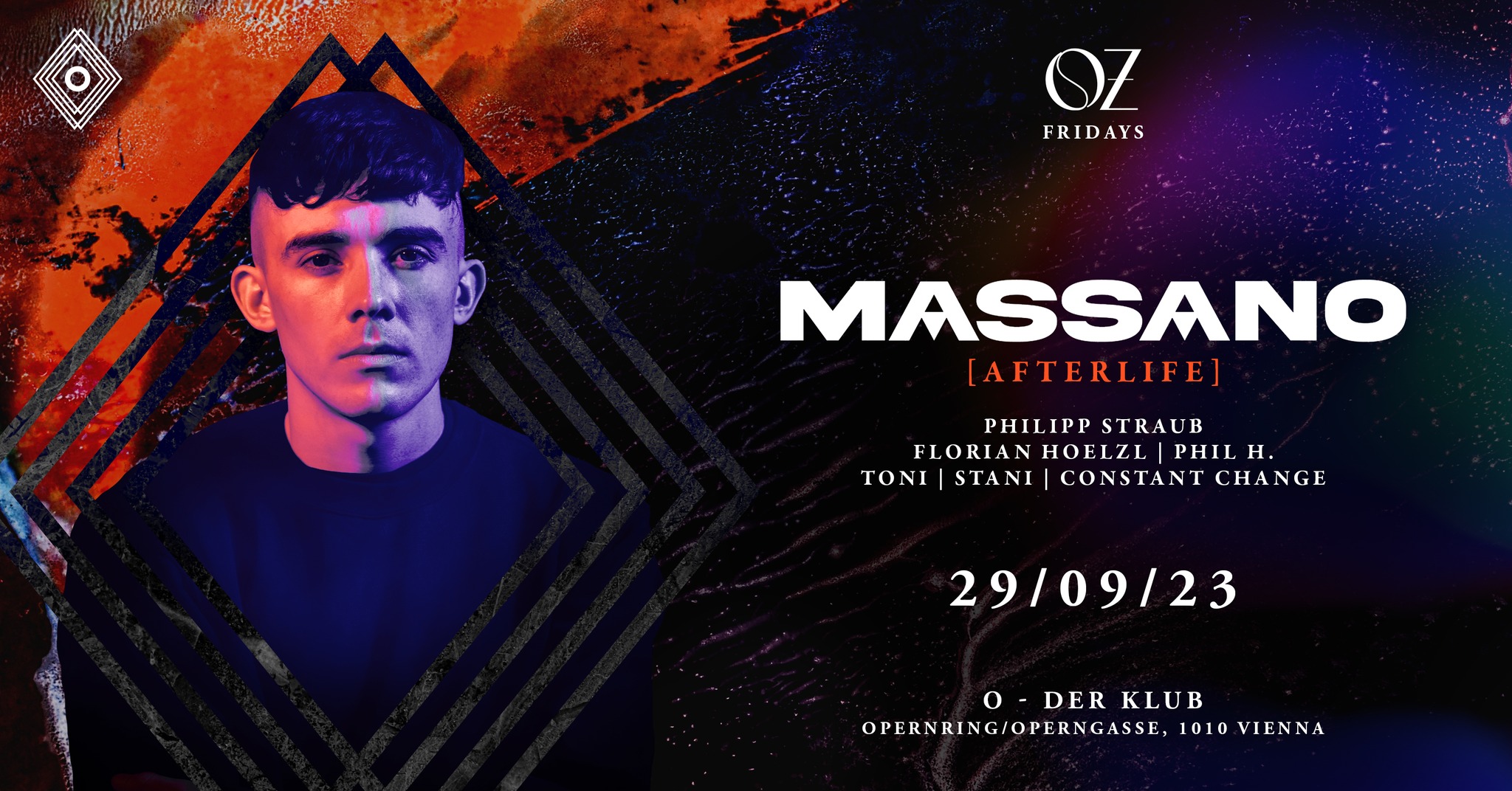 Please welcome
the Afterlife Act…
MASSANO
The producer and DJ Massano already
achieved impressive success at a young
age in the melodic techno scene.
He went from a thriving electronic
music scene in Liverpool to releases on
Afterlife, Oddity, Runnin Clouds, and
Atlant & now he will show his skills
under the State Opera.
MAIN FLOOR
Soundsystem by L-Acoustics
Supported by
▌PHILIPP STRAUB
▌FLORIAN HOELZL
▌PHIL H.
SALON WASABI
Proudly equipped with
Lambda Labs Soundsystem
Hosted by NINE O NINE
▌TONI
▌STANI
▌CONSTANZ CHANGE
KONSULAT
Secret Floor w/ Hip Hop & Urban Sounds
▌T-ONE
LIVE SETS
▌Massano, Liverpool, UK:
▌Massano Ultra Music Festival Europe 2023:
▌SoundCloud:
[/link]
ENTRY & RESERVATION
▬▬▬▬▬▬▬▬▬▬▬▬▬▬▬▬▬▬▬▬▬
▌Strictly limited Early-Birds: 12€
▌Shop
VIP TABLES & LOGES
Click here and your wonderful VIP experience starts now:
or
Don't hesitate to write us an email at any time:
reservation@horst-group.com
or
Use our WhatsApp-Service +43 676 9701545[/link]
HIS JOURNEY TO OZ
Massano's ascent in the world of music has been nothing short of meteoric, as his modern melodic techno sound continues to gain momentum. This sonic journey received a significant boost when Mind Against featured his music in their Cercle set at the Centro Ceremonial Otomí in Mexico.
With this swift industry validation, Massano has undeniably become a prominent figure in the eyes of the media. His work has graced labels of high acclaim such as Afterlife, Oddity, Running Clouds, and his very own Eternity Sounds while gaining support from some of the most influential names in the scene, including Tale Of Us, Mind Against, Kevin De Vries, Mathame, Undercatt, Innellea, and many more.
LOST & FOUND:
lostandfound-o@horst-group.com
AGE: 19+
Follow us on Instagram:
@o_der_klub