OFF THE GRID Chapter 3 w/ JONAS FRIEDLICH
Rhiz U-Bahnbogen 37-38 / Lerchenfeldergürtel, 1080 Wien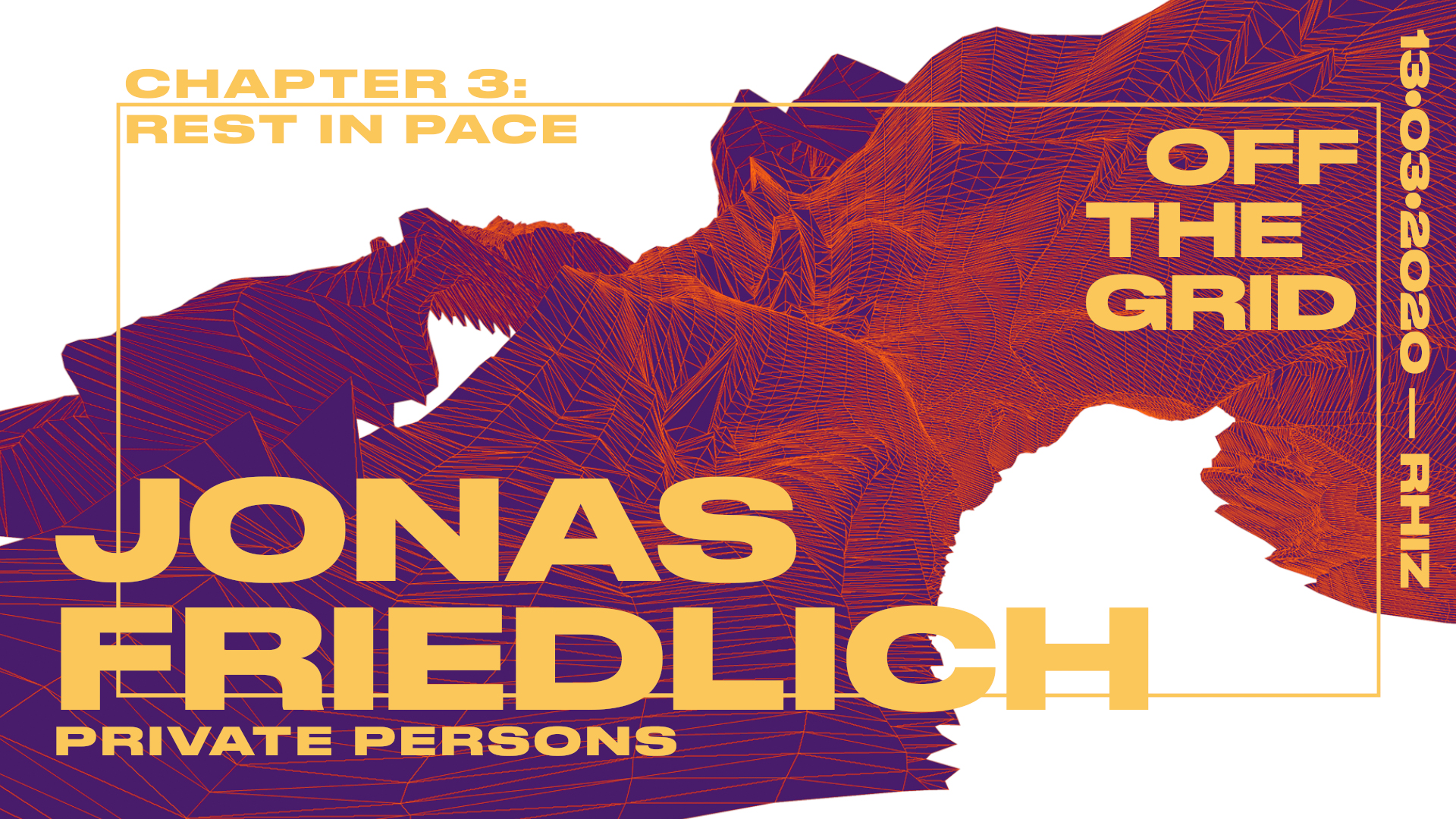 We find ourselves in ever accelerating environments, we're rushing along these frameworks, getting locked in the same old patterns. Only when we immerse and reflect we can see things as they really are. With this knowledge we can start moving freely again, strengthening our experience to new speeds and heights.
Join us for another night OFF THE GRID with
⚶⚶⚶ Jonas Friedlich (PRIVATE PERSONS/Carl Gari) ⚶⚶⚶
⚶ DJ defizit ⚶
⚶ dj odd ⚶
⚶ B. Ranks ⚶
⚶ Rapha Ramires -unofficial- ⚶
5€ all night long
RA: https://www.residentadvisor.net/events/1391625
════════════════════════════════
No discrimination of any kind. If you feel bothered,
don't hesitate to inform the crew or the bar staff.
════════════════════════════════
J O N A S F R I E D L I C H
is a DJ, producer and musician from Munich. He released tracks on DVS1's Mistress Recordings, moscow's Private Persons, Molten Moods (amongst others) and with his band project Carl Gari on The Trilogy Tapes and Whities. While he hides his addiction to experimental music at no point, his tracks still manage to find their spot in clubs all over the globe. Holding club residencies since 2010 (currently at Rote Sonne Club) he developed his eclectic style of slick dj-mixing between techno, break-beat, d&b and everything else that satisfies his innovation and creativity approach to music.
════════════════════════════════
Support us and the artist:
https://soundcloud.com/jonasfriedlich
https://www.facebook.com/jonasfriedlich/
https://www.facebook.com/offthegrid.wien/
https://soundcloud.com/off_the_grid_vienna
https://www.instagram.com/off.the.grid_vie/
════════════════════════════════