NO TRIGGER / MakeWar

presented by MJ & GRöli
Chelsea Lerchenfelder Gürtel / U-Bahnbögen 29-30, 1080 Wien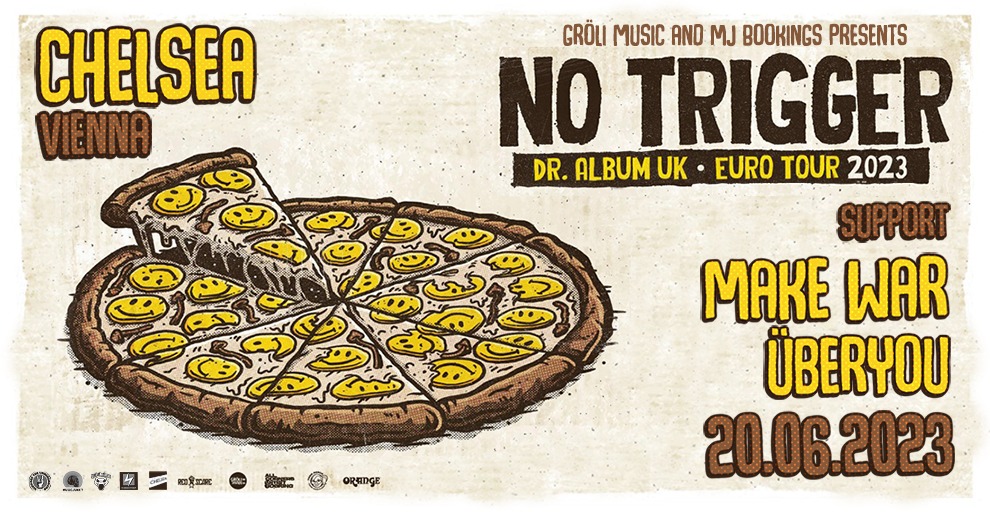 NO TRIGGER
(Hardcore Punk / Punk Rock /
Worcester / USA)
It's been ten years since No Trigger gifted the world a full length. TEN GODDAMN YEARS. But all that is about to change with the release of 2022's Dr. Album. They're the first sextet on Red Scare (we think?) and the biggest thing to come outta Worcester, MA since Bob Cousy. These guys have played all over the world (Europe, Japan, South America, Australia, etc.) and made their name perfecting melodic hardcore, but this new 13-song record has something for everyone. Dynamic indie-punk of all stripes can be heard on Dr. Album, and this doctor has an IV bag of hooks, choruses, melodies, and ferocious lyrics that you'll wanna inject straight into your veins. Side note: Did you know that Emma Goldman opened an ice cream shop in Worcester (AKA Wormtown) back in the 1800's? It's true, and Saint Emma would be proud of these scrappy punks and this Left-Wing masterpiece. It may have taken a decade, but No Trigger is relentless, and the band is playing Riot Fest, Punk In Drublic Festival, and shows with The Lawrence Arms in support of these new songs. Onward and upward!
………………………
MakeWar
(Punk / New York / USA)
MakeWar is about a fight.
It's a fight against ignorance and hate.
A fight to do what you want instead of what you're supposed to.
A fight to stay up when everything is pulling you down.
It's fighting for the dreamers and drinking to the screamers.
Fighting off what's holding you back.
That's why MakeWar sounds like letting go.
So let's fucking go!
………………………
ÜberYou
(Punk / Zurich, CH)
From Zurich to the whole wide world – Überyou is about friendships and the love for music. Having toured all over the world and played places like Havana, São Paulo, Rome, Bogota and Texas (just to name a few), we gonna release our 4th studio album called "Night Shifts" 11th january 2019 on Gunner Records (Europe) & Say-10 Records (USA). With the spirit of the Gainesville punk bands like Hot Water Music and Against Me in our hearts and the essence of the Swiss punk scene in our veins, Überyou is energetic, DIY-comitted and holding up the good times since 2008!