NEAR DARK - Gothic Horror - Dark 80s Classics & New Retro Sounds
Viper Room Landstrasser Hauptstrasse 38, 1030 Wien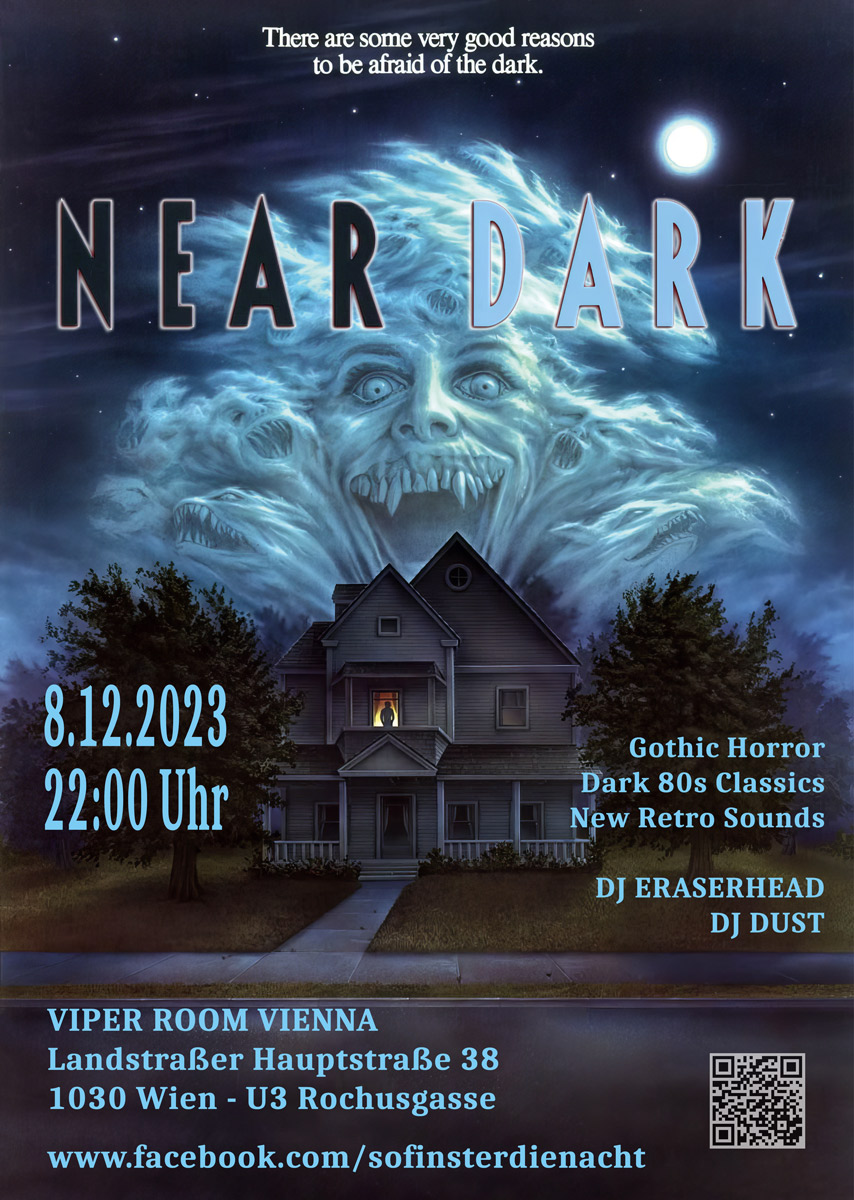 Near Dark – 4th Edition
The party for all the lost boys, living dead girls, werewolves, bats and other children of the night!
Drive down memory lane to the 80s and meet all the legends from the dark side of this decade and dive deep Into today's sounds from the new breed of the Gothic Underground.
All that with a horror vibe brought to you by sounds and visuals with the cult movies from the eighties like Near Dark, Lost Boys, Nightmare on Elm Street, Friday the 13th, Prince of Darkness, Halloween, Critters, Creep Show, Hellraiser and more!
Dark 80s Classics & New Retro Sounds
with
DJ Eraserhead + Special Guest DJ Dust
THE LEGENDS
Alien Sex Fiend
Alphaville
Anne Clark
Bauhaus
Blondie
Camouflage
The Cramps
Christian Death
The Cure
The Cult
Death in June
Depeche Mode
Echo & The Bunnymen
Einstürzende Neubauten
Eurythmics
Front 242
The Jesus and Mary Chain
Joy Division
Killing Joke
Kim Wilde
Kirlian Camera
Laibach
New Model Army
New Order
Nick Cave
Nine Inch Nails
Siouxsie and the Banshees
Soft Cell
The Sisters of Mercy
The Smiths
Virgin Prunes
Visage
THE NEW BREED
A Projection
Agent Side Grinder
Ash Code
Bedless Bones
Boy Harsher
Bragolin
Buzz Kull
Desmond Doom
DIAF
Drab Majesty
Empathy Test
Forever Grey
Gggolddd
Hante.
Hapax
IAMX
IVUR
Kaelan Mikla
The KVB
Lebanon Hanover
Light Asylum
Linea Aspera
mitra mitra
Molchat Doma
Rue Oberkampf
Ritual Howls
Selofan
She Past Away
Soft Kill
Tempers
Then Comes Silence
Totenwald
Traitrs
Twin Tribes
Whispering Sons
Whispers in the Shadow
Winter Severity Index
Zanias
Eintritt: 8,00 €