LUFT & LIEBE W/ ALEX STEIN | Pratersauna
Pratersauna Waldsteingartenstraße 135, 1020 Wien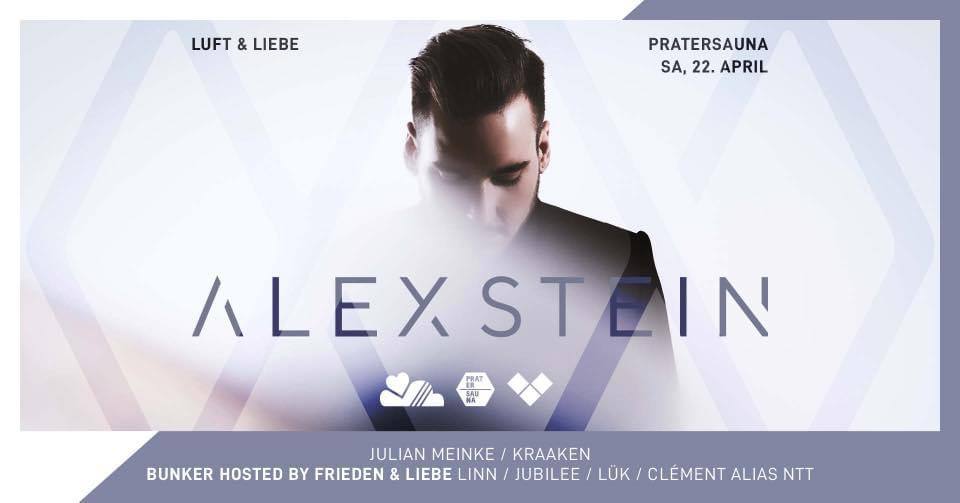 LUFT & LIEBE w/ ALEX STEIN 🚀💥
SA 22/04/2023 Pratersauna
Bunker hosted by FRIEDEN & LIEBE
Wir freuen uns schon auf Euch!
FINALLY auch auf Instagram ->
https://www.instagram.com/luftundliebe_wien/
+++++++++
Vorverkauf:
https://tickets.zuckerwatt.com
Abendkassa ab 23:00 Uhr:
+++++++++
Mainfloor:
LUFT & LIEBE
► ALEX STEIN (Terminal M, Filth On Acid)
https://soundcloud.com/alex_stein
► JULIAN MEINKE (wiener mischung)
https://soundcloud.com/julian-meinke
► KRAAKEN (les suspect habituels)
https://soundcloud.com/kraakendj
+++++++++
Bunker hosted by
FRIEDEN & LIEBE
► LINN
https://soundcloud.com/linnvie
► JUBILEE
https://soundcloud.com/jubilee_vienna
► LŪK
https://soundcloud.com/luk_vie
► CLÉMENT ALIAS NTT
https://soundcloud.com/clement-alias-ntt
+++++++++
Brazilian-Bavarian wunderkind Alex Stein stands amongst the new generation of talent coming out of Europe's techno scene. He has moulded and shaped a unique style which has been stirring up a whirlwind of support. A thrilling attitude that has defined his ascension in the club scene and that kept him true to his nomad heart touring extensively all around the planet in 2019.
Recently landing his major debut 'Rebirth' EP on Monika Kruse's Terminal M and having just released his second EP on Reinier Zooneveld's own Filth On Acid which is topping Beatport Charts, Alex has worked tirelessly building a reputation from previous releases on Senso Sounds, Suara and Tronic. His music has been rocking the sets from the likes of Adam Beyer, Charlotte De Witte, Amelie Lens, Enrico Sangiuliano and Umek just to name a few.
With further releases planed for 2020 including new original tracks, one of which is on Terminal M's 20-Year Compilation plus some very special remixes, Alex shows no signs of stopping.
+++++++++