Let's all meet up in the Club 2000
The Loft Lerchenfeldergürtel 37, 1160 Wien
Letzte Chance ... vorbei! Dieses Gewinnspiel ist bereits vorüber. Die glücklichen Gewinner wurden per E-Mail benachrichtigt.
Teilnahmeschluss: 02. Januar 2020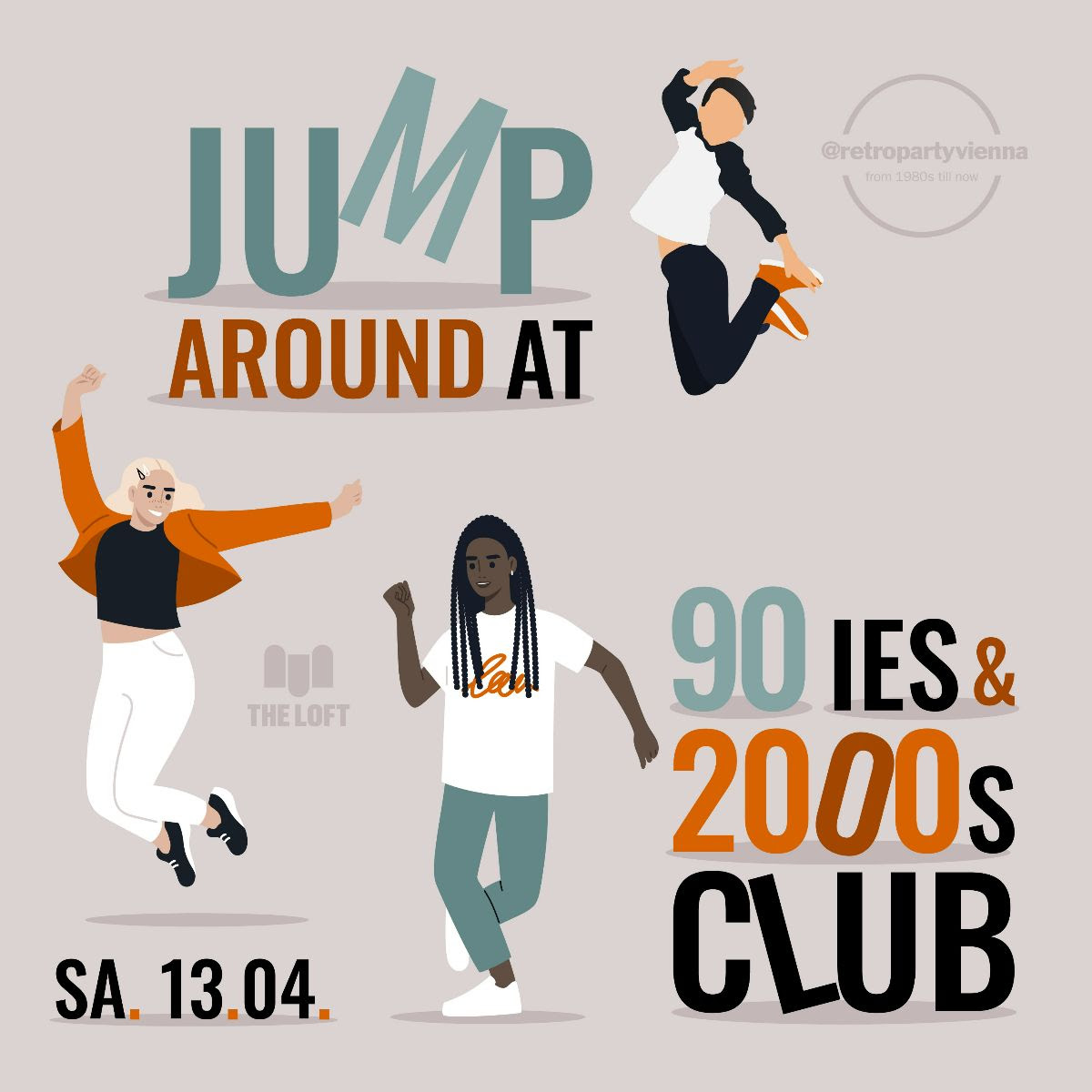 Samstag, 04. Jänner 2020 ab 21:50h
@ The Loft, Lerchenfelder Gürtel 37, 1160 Wien | www.TheLoft.at/sat
FB-Event: www.facebook.com/events/419679922234209
Erholt von Silvester? JA? Passt, wir alle treffen uns nämlich beim 2000s Club im The Loft!
Wie immer beim LoftSamstag gilt: von 21:50h bis 22:00h bekommt ihr euren Eintrittsstempel um nur 1€!
——————
00er INDIE.floor: IndieAnna, Gabriel Mayr (LORBEEREN)
00s POP.floor: DJ Phil, DJ David Jerina
Special: Gratis Desperados!
——————
Ticketing: 1/5/6/8€ – Info hier: http://bit.ly/loftsattix
Vorverkauf (6€): https://ntry.at/shop/LoftSat
Freikartengewinnspiel-Links gibt's bei David Loftsamstag, einfach adden & anschreiben! (www.facebook.com/DavidLoftSat)
——————
Termine:
Sa. 04.01. Let's all meet up at the Club 2000!
Sa. 18.01. Drop it like it's 2000s Club!
Sa.01.02. 2000s Club mit POP.floor & INDIE.floor
Sa.08.02. 2000S Club mit POP.floor & HIPHOP.floor
——————
(VIENNAs FIRST) 2000s CLUB – Das Original seit 2012!
Immer am 1. und 3. Samstag des Monats (von September bis Juni @ The Loft) stellen wir die Uhr zurück auf die Nuller-Jahre: Ein Jahrzehnt, das Pop-Ikonen wie Lady Gaga und Beyoncé hervorgebracht hat und dem schrammeligen Indierock à la Strokes und Arctic Monkeys sein großes Revival bescherte. Feiert mit uns die Hits der Dekade quer durch alle Genres. Auf zwei Floors präsentieren unsere DJs euch eine bunte Mischung aus Chartsstürmern und One-Hit-Wonders, mit Songs zum Schreien, Weinen, Tanzen und Arme-In-Die-Luft-Reissen. Auf dem oberen Floor stehen abwechselnd Indie/Alternative und Hip-Hop auf dem Programm, unten gibt's Pop, Dance und Electro. Und alles stammt garantiert aus den Jahren 2000 bis 2009.
—————–
(VIENNAs FIRST) 2000s CLUB sounds like:
30 Seconds to Mars ♬ 50 Cent ♬ Aaliyah ♬ Adam Green ♬ Akon ♬ Alicia Keys ♬ Amy Winehouse ♬ Arcade Fire ♬ Arctic Monkeys ♬ Art Brut ♬ Avril Lavigne ♬ Babyshambles ♬ Beatsteaks ♬ Beyoncé ♬ Black Eyed Peas ♬ Bloc Party ♬ Booka Shade ♬ Bright Eyes ♬ Britney Spears ♬ Christina Aguilera ♬ Coldplay ♬ Crazy Town ♬ Daft Punk ♬ David Guetta ♬ The Darkness ♬ Death From Above 1979 ♬ Deichkind ♬ Destiny's Child ♬ Digitalism ♬ Dr. Dre ♬ Duffy ♬ Editors ♬ Eminem ♬ Eve ♬ Die Fantastischen Vier ♬ Feist ♬ Fettes Brot ♬ Fischerspooner ♬ The Flaming Lips ♬ Franz Ferdinand ♬ Fratellis ♬ Gigi D'Agostino ♬ Gnarls Barkley ♬ Gorillaz ♬ The Go-betweens ♬ The Gossip ♬ Hercules & Love Affair ♬ The Hidden Cameras ♬ The Hives ♬ Hot Chip ♬ Hot Hot Heat ♬ Interpol ♬ Ja, Panik ♬ Jay-Z ♬ Jennifer Rostock ♬ Jet ♬ Justin Timberlake ♬ Justice ♬ Kanye West ♬ Kate Nash ♬ Katy Perry ♬ Kid Cudi vs. Crookers ♬ The Killers ♬ The Kills ♬ Kings Of Leon ♬ The Knife ♬ The Kooks ♬ Kreisky ♬ Lady Gaga ♬ LCD Soundsystem ♬ The Libertines ♬ Lil Wayne ♬ M.I.A. ♬ Mando Diao ♬ Massive Töne ♬ Maximo Park ♬ MGMT ♬ Mia ♬ Mika ♬ Missy Elliot ♬ Muse ♬ Nelly Furdado ♬ No Angels ♬ O-Zone ♬ OK GO ♬ OutKast ♬ Panic At The Disco ♬ Phoenix ♬ Pink! ♬ Queens Of The Stone Age ♬ Rihanna ♬ Robyn ♬ La Roux ♬ Scissor Sisters ♬ Sean Paul ♬ Seeeed! ♬ Shakira ♬ Silbermond ♬ Snoop Dogg ♬ Soko ♬ The Streets ♬ The Strokes ♬ Sugarplum Fairy ♬ T.Raumschmiere ♬ Tegan & Sara ♬ The Ting Tings ♬ TV On The Radio ♬ Vampire Weekend ♬ Velvet Revolver ♬ The White Stripes ♬ Wir Sind Helden ♬ Yeah Yeah Yeahs ♬ …