Highly Suspect

Support: The Picturebooks
Flex Donaukanal/Augartenbrücke, 1010 WIEN
Letzte Chance ... vorbei! Dieses Gewinnspiel ist bereits vorüber. Die glücklichen Gewinner wurden per E-Mail benachrichtigt.
Teilnahmeschluss: 04. Oktober 2023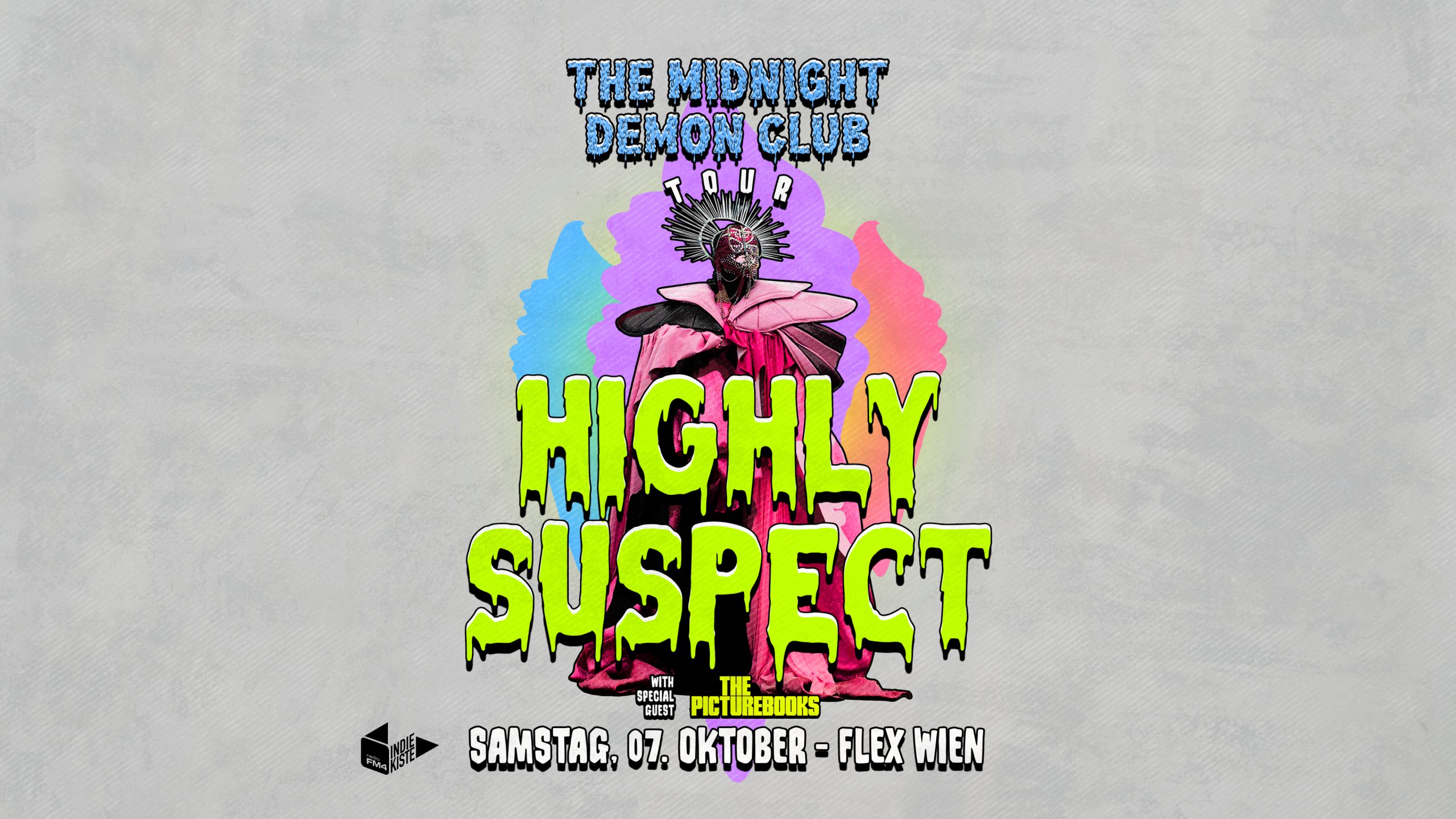 MCID. This is the slogan tattooed on bodies across the world, four letters that hold so much meaning, a mystery to anyone who is not in the know. Highly Suspect members Johnny Stevens and twins Rich and Ryan Meyer had not only been playing music for eight years before topping radio charts, garnering Grammy nominations, and selling out tours- but they also had been gradually accruing a cast of comrades that orbited their star, friends and chosen family that would travel the world with them, move cross country with them, and become pet parents with them. The growing community of companions have a name, and it is MCID.
Originally from Cape Cod, the three band members played covers in dive bars and moved to a studio apartment in Brooklyn together. In 2015, they gained national recognition after the release of their debut album Mister Asylum on 300 Entertainment and their singles "Lydia" and "Bloodfeather" topped the rock radio charts. The next year they performed at the Grammy Ceremony, receiving two nominations for Best Rock Album and Best Rock Song. In 2017 the band traveled to Bogota, Colombia to record their second album, The Boy Who Died Wolf. It was released in November 2016 and the success of  hits "Little One" and "My Name Is Human," earned the band a third Grammy nomination for Best Rock Song.
And now the band is ready to release album three, a manifesto full of lead singer Johnny Steven's private confessions, packed to the brim with themes of self loathing, body image issues, substance abuse, addressing his complicated past and trying to change his future. There is also a sprinkle of his outspoken anti-Trump political stance, and stories of heartbreak and hope. It's not surprising that his most vulnerable collection of songs is addressed directly to his chosen family, his followers, and his comrades- the title of the album is MCID.
MCID is packed with surprise major hip hop features, a collaboration with the metal band Gojira, some Swahili versus, and a lead single, "Sixteen", that is completely guitar free. The lyrics describe the true story of Stevens falling in love at sixteen years old, fostering a relationship for seven years, and feeling elated when she told him she was pregnant with their baby. The song describes his instant devastation the moment of the birth when he found out that the baby wasn't his, the baby was a different race. Though a wild story, the lyrics capture the gut wrenching feeling of first love lost, betrayal, and regret. Other standout songs are his collaboration with Young Thug on "Tokyo Ghoul", and "Canals" which captures his frustration with the Trump presidency, saying that his rage feels like "someone took a crack pipe, lit it with a torch light, and threw it on a gas line- there is fire everywhere".
MCID is not just the third full length project from three guys who approach the rock genre with a hip hop ethos, but it's a family meeting and an apology from singer Johnny Stevens whose lyrics demand accountability from himself and urge him to be more honest and to conquer the demons that made him who he is.
A recent addition to the band's lineup is one of their lifelong friends, Matt Kofos. Kofos has been touring with them for years, has lived with them, and completes the puzzle in Highly Suspect's unbroken journey to translate their music from record to stage. This is what MCID is, it's a family, a movement, and one hell of an album.