Glitz

Space Invaders have landed
O - Der Klub Operngasse/Opernring, 1010 Wien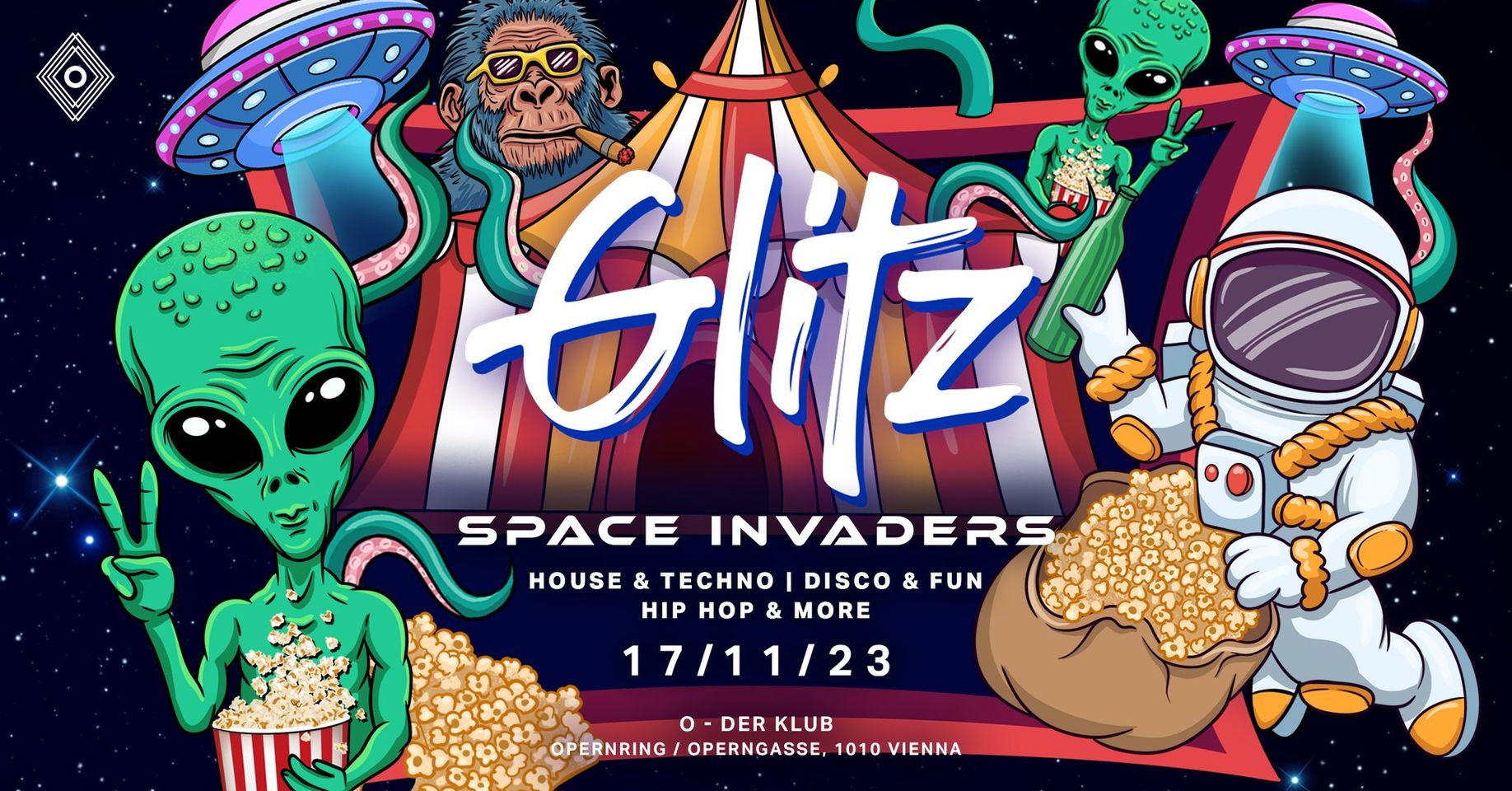 SPACE INVADERS HAVE LANDED
THE STORY
Glitz feels like coming home.
Our mission is to gather all the city's energy once a month and reunite everyone on 3 floors under the Vienna State Opera. Listen, feel, and dive into a fulminant magical world full of artists, attractions, and escalations. Be open to fully be yourself, be surrounded by positive, kind, and exceptional people, and dance in a crowd as if there's no tomorrow. The place is almost addictive, but better see it for yourself – we don't want to reveal too much yet.
THE CEREMONY
Space Invaders will evoke these good old memories from back in the days when life was all about arcade games.  [Space-]Suit up for a gathering of unity since all life forms of this universe are welcome. Let's show pride and joy to be on earth!
THE SHOW
Prepare to be transported to another galaxy! The Space Invaders have landed, and their show is out of this world!  Get ready for an unforgettable experience with luminescent visuals and mind-bending beats that will take you on a journey through the cosmos. Don't miss this intergalactic party.
THE LINEUP
Once upon a time, people started wandering around the world to hear the most talented artists play and invited them to Glitz.
MAIN FLOOR [Disco&House]
▌VALIO
▌BIANCA PORO
▌JOHNNY VINCENT
▌DOMINIQUE FOLIE
SALON WASABI [Techno&TechHouse]
▌ESH
▌SAN THIAGO
▌DANIELA MORALES
▌ROIBO b2b SAMADRI
KONSULAT [HipHop]
▌TOMMY JUNIOR
▌DJ DENZORO
THE QUEST
 WE WANT YOU
Are you brave enough to be part of the family & show?
Do you love to express yourself, dress up and entertain?
Then we'd love to welcome you to our fantastic crew – apply now via: glitz@horst-group.com
BE OUR GUEST
10€ < 00:30 > 15€
[only door sale]
VIP TABLES & LOGES
Click here, and your wonderful VIP experience starts now
or
Don't hesitate to write us an email at any time:
reservation@horst-group.com
or
Use our WhatsApp Service +43 676 9701545
We can't wait to get crazy with you on the dance floor and
make [un]forgettable memories that for sure last for a lifetime.
Lost&Found:
lostandfound-o@horst-group.com
AGE: 19+
Follow us on Instagram:
@o_der_klub
@glitz.vienna