O - Der Klub Operngasse/Opernring, 1010 Wien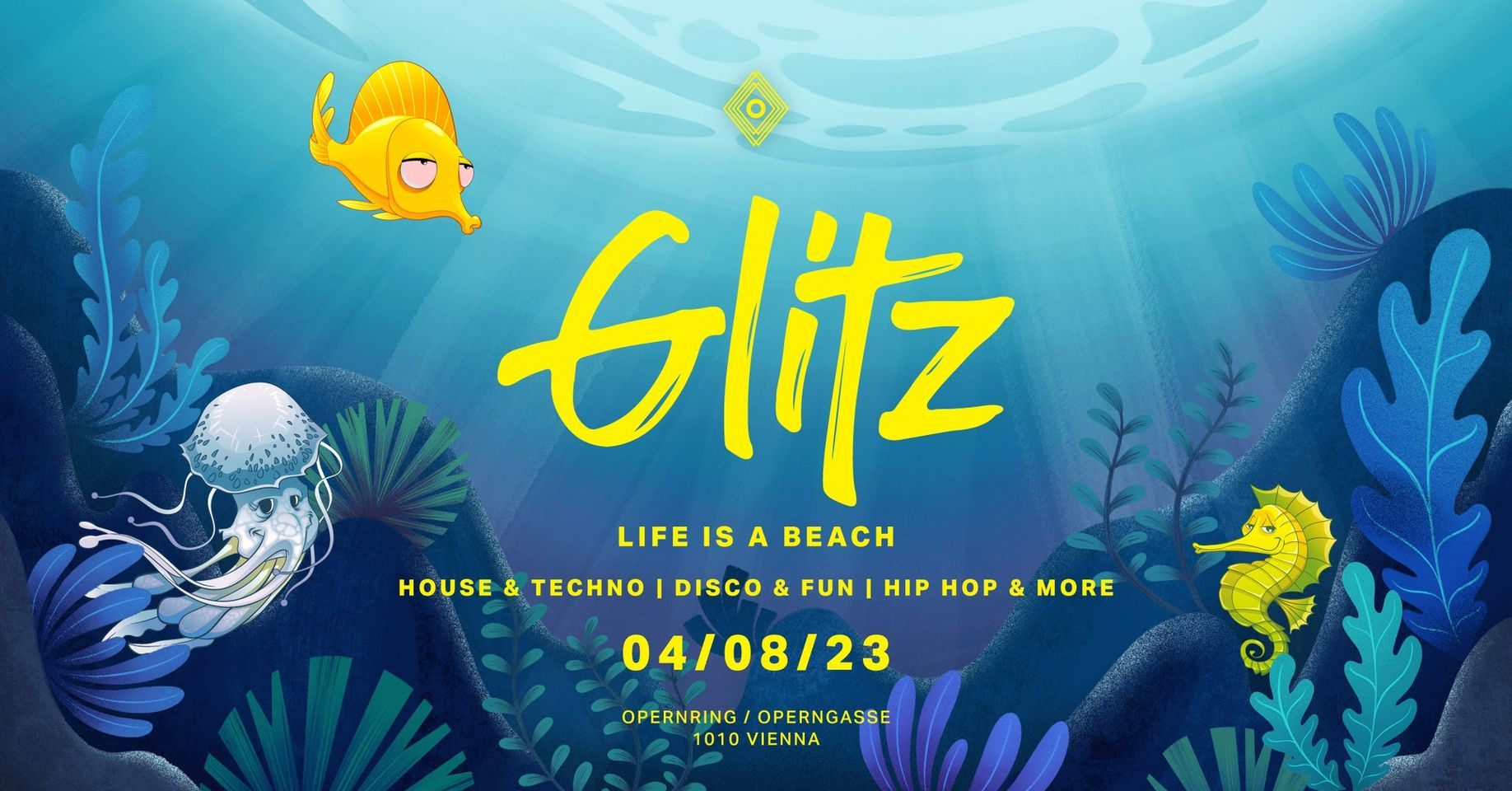 THE STORY
Glitz feels like coming home.
Our mission is to gather all the city's energy once a month and reunite everyone on 3 floors under the Vienna State Opera. Listen, feel and dive into a fulminant magical world full of artists, attractions and escalations. Be open to fully be yourself, be surrounded by positive, kind and exceptional people and dance in a crowd as if there's no tomorrow. The place is almost addictive, but better see it for yourself – we don't want to reveal too much yet.
THE CEREMONY
Dive into a yet unexplored underwater world and escape from your dry and sandy daily routine. Just follow our philosophy "Life is a Beach" and join this celebration of joy and harmony! Get yourself a refrigerated beach cocktail while dancing through the night.
THE SHOW
May Neptune guide you through the deep blue sea of mystic creatures and wavy beats and let your mind float! Get your skin tanned while keeping your head cool and you might find a sunk and hidden treasure under the gates of the Vienna State Opera!
[Don't get your cameras ready when it happens – just enjoy the moment]
THE LINEUP
Once upon a time, people started wandering around the world to hear the most talented artists play and invited them to Glitz.
MAIN FLOOR [Disco&House]
▌BIPO
▌BIANCA PORO
▌JOHNNY VINCENT
▌VALIO
▌GJAKA K.
SALON WASABI [Techno&TechHouse]
▌ANISZ
▌ROIBO B2B MANTIS
▌BART UND BUSEN
KONSULAT [HipHop]
▌tba.
THE QUEST
 WE WANT YOU
Are you brave enough to be part of the family & show?
Do you love to express yourself, dress up and entertain?
Then we'd love to welcome you to our fantastic crew – apply now via: glitz@horst-group.com
BE OUR GUEST
0€ < 00:30 > 10€
VIP-Tables: reservation@horst-group.com
We can't wait to get crazy with you on the dance floor and
make [un]forgettable memories that for sure last for a lifetime.
▬▬▬▬▬▬
AGE: 19+
Follow us on Instagram:
@o_der_klub
@glitz.vienna
Lost&Found: lostandfound-o@horst-group.com