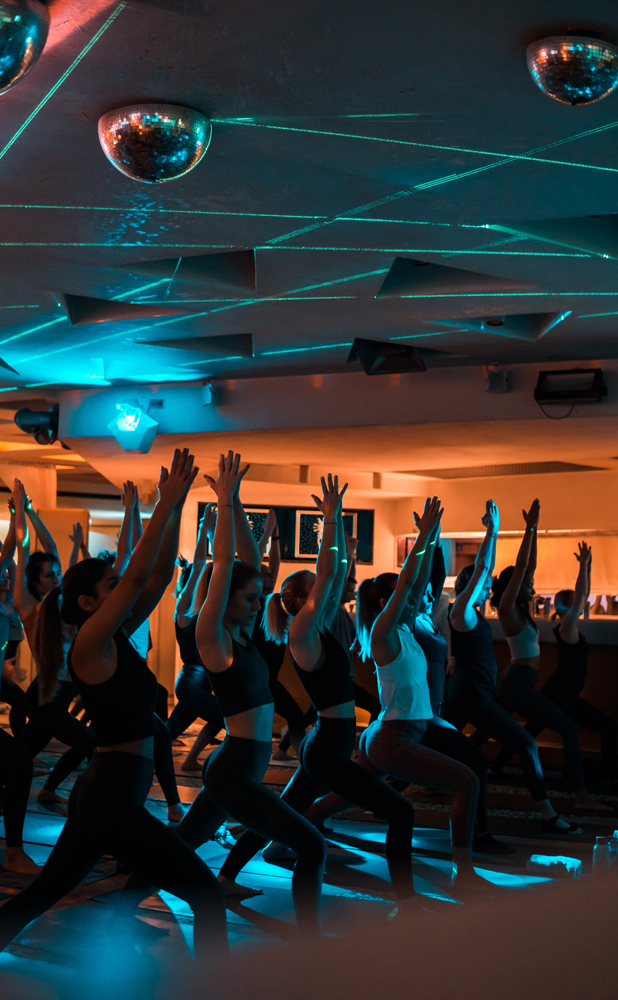 𝗟𝗘𝗧 𝗬𝗢𝗨𝗥 𝗠𝗜𝗡𝗗 𝗙𝗟𝗢𝗪 𝗘𝗟𝗘𝗞𝗧𝗥𝗢
We are a tribe that strives to combine yoga and electronic music, with the best national and international yoga teachers, in one of the finest clubs in Vienna : THE BABENBERGER PASSAGE has been selected as on of the finest clubs worldwide.
The Passage is where the tribe meets. There we practice yoga in the sphere of a club, with no mirrors and daylight to encourage you to turn your focus inward and explore your individual practice.
To deepen your practice through electronic music and yoga we have a special for you: 𝗕𝗟𝗜𝗡𝗗𝗙𝗢𝗟𝗗𝗘𝗗 𝗬𝗢𝗚𝗔
Let yourself be guided blindly through this class through electronic music, the sphere of the club and improve your body awareness, your concentration and balance. Learn more about your practice without being distracted by your eyes. Turn your focus inward, let the music carry you, and the flow support you.
//
Class instructed by: Marcel Clementi
On March 18.th we have as always a very special yoga teacher for you. One who lives and loves yoga, one who will even convince your non-yoga friends to start with the yoga practice with his charisma.
Marcel is a trained 500h multistyle yoga teacher. He teaches classes, workshops and retreats around the world as a multistyle teacher in Power Yoga, Ashtanga, Vinyasa, Hatha and Yin.
On the 18.th he is your yoga teacher and flows ELEKTRO with you.
//
Musik by: Seba Kayan
Seba is the founder and DJANE of ELEKTROYOGA. She has been DJing and practicing Yoga for several years. She believes in the power of electronic music and yoga, two things that she loves combined, is a new approach of Yoga for her.
//
Are you ready to let your mind and body dance?
DOORS OPEN : 18:30
FLOW ELEKTRO: 19:00- 20:15
MATS: are provided and sponsored by Lotuscrafts
//
ATTENTION: Limited Spots
//
Questions?
We are here: namaste@elektroyoga.at
//
Let´ s flow elektro!
xoxo
Seba