Balkan To Bollywood • Dunkelbunt Social Club • 20.05. FLUC (upstairs)
Fluc Praterstern 5, 1020 WIEN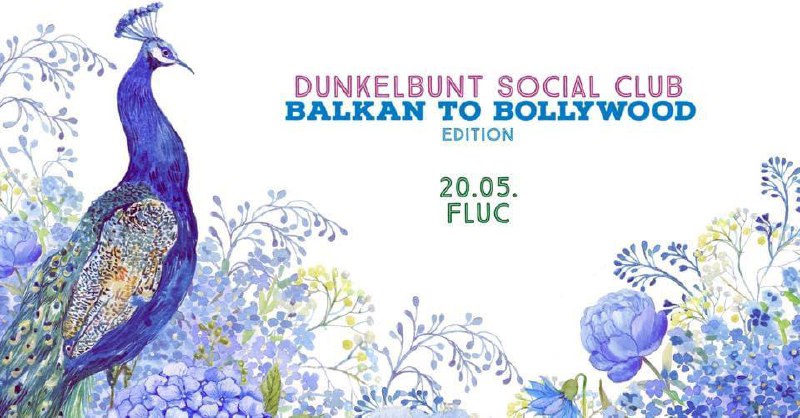 Dunkelbunt Social Club ✺ Balkan To Bollywood Edition
░░░░░░░░░░░░░░░░░░░░░░░░░░░░
The DUNKELBUNT SOCIAL CLUB community is a loose scene of international musicians, DJs, club pros, soundscapers, radio makers, label gurus. They all have one thing in common: They live in the permanent adrenaline of club culture, and they mix the ethnic music of their forefathers with all kinds of crazy current vibes.
These Stage Compañeros meet during the DUNKELBUNT SOCIAL CLUBNIGHTS which is everything at once: world trip and friendship document, peace demo, groove selection and dream space. Melt down, melt in – come in and rave!
DJs
░░░
✺ Dunkelbunt [transglobal district]
✺ Sid Data [wizard of ost]
✺ Jimmy Rosas [Ost Klub DJ Kollektiv]
✺ MC Haider Khan [Ragastan Folk Brothers]
FLUC (upstairs)
SATURDAY 20.05.2023
DOORS: 9 p.m. – 5 a.m.
TICKETS: https://ntry.at/dunkelbuntsocialclub
TIMETABLE: starting from 9 p.m. DJs swap every 30 minutes to keep it fresh and groovy.
This DJ trio, was forged and reinforced during the good old days of Vienna's legendary Ost Klub. They complement each other perfectly in sound and style. That night they play from 9 p.m. a bunch of eclectic and crisp back 2 back sets, swapping every 30 minutes, everything stays in flux, everything grooves, the dice are in the air, what's next on the turntable? Oven-fresh beats from the Dunkelbunt studio and the sound kitchens of the wide world, but also the good old classics should not be missing. Guest of honor of the evening is Haider Khan from Jaipur, actually known for his tabla skills, but this evening he finds his place as master of celebration at the microphone. -They are on fire, from sunset to sunrise.
░░░░░░░░░░░░░░░░░░░░
25th ANNIVERSARY of DUNKELBUNT
░░░░░░░░░░░░░░░░░░░░
This year Ulf Lindemann celebrates the 25th anniversary of his project Dunkelbunt, which he founded in Hamburg at the age of 18. Dunkelbunt is known as an ambassador for electronic world music. His albums are eclectic works with sound colors, languages and collaborators from all over the world and reached over 150 million streams on Spotify and other platforms. Besides his own compositions he remixes and produces for Fanfare Ciocarlia, Amsterdam Klezmer Band, Waldeck, Boban Markovic, A-WA, Protoje, Sara Lugo, Marie Spaemann, Dream Noir, Nese Karaböcek, Santi & Tugce and many more.
He is currently producing the new album for the Amsterdam Klezmer Band. In the afternoons you can often meet him in Vienna's Augarten, where he plays and sells vinyl with his bicycle trailer-integrated sound system.
Home: www.dunkelbunt.org
Spotify: http://bit.ly/db-spoti
Instagram: www.instagram.com/dunkelbunt_music
Dunkelbunt Social Club Vinyl: https://bit.ly/44htVZM
░░░░░░░░░░░░░░░░░░░░░░
Dunkelbunt DJ Mix – Bass of Asîa 🐉🎋🦚
░░░░░░░░░░░░░░░░░░░░░░
➾ https://www.mixcloud.com/mrdunkelbunt/samurai-trap-glitch-japanese-asian-future-bass-hip-hop/