90ies Club - Allein zu Hause!
The Loft Lerchenfeldergürtel 37, 1160 Wien
Letzte Chance ... vorbei! Dieses Gewinnspiel ist bereits vorüber. Die glücklichen Gewinner wurden per E-Mail benachrichtigt.
Teilnahmeschluss: 12. Dezember 2019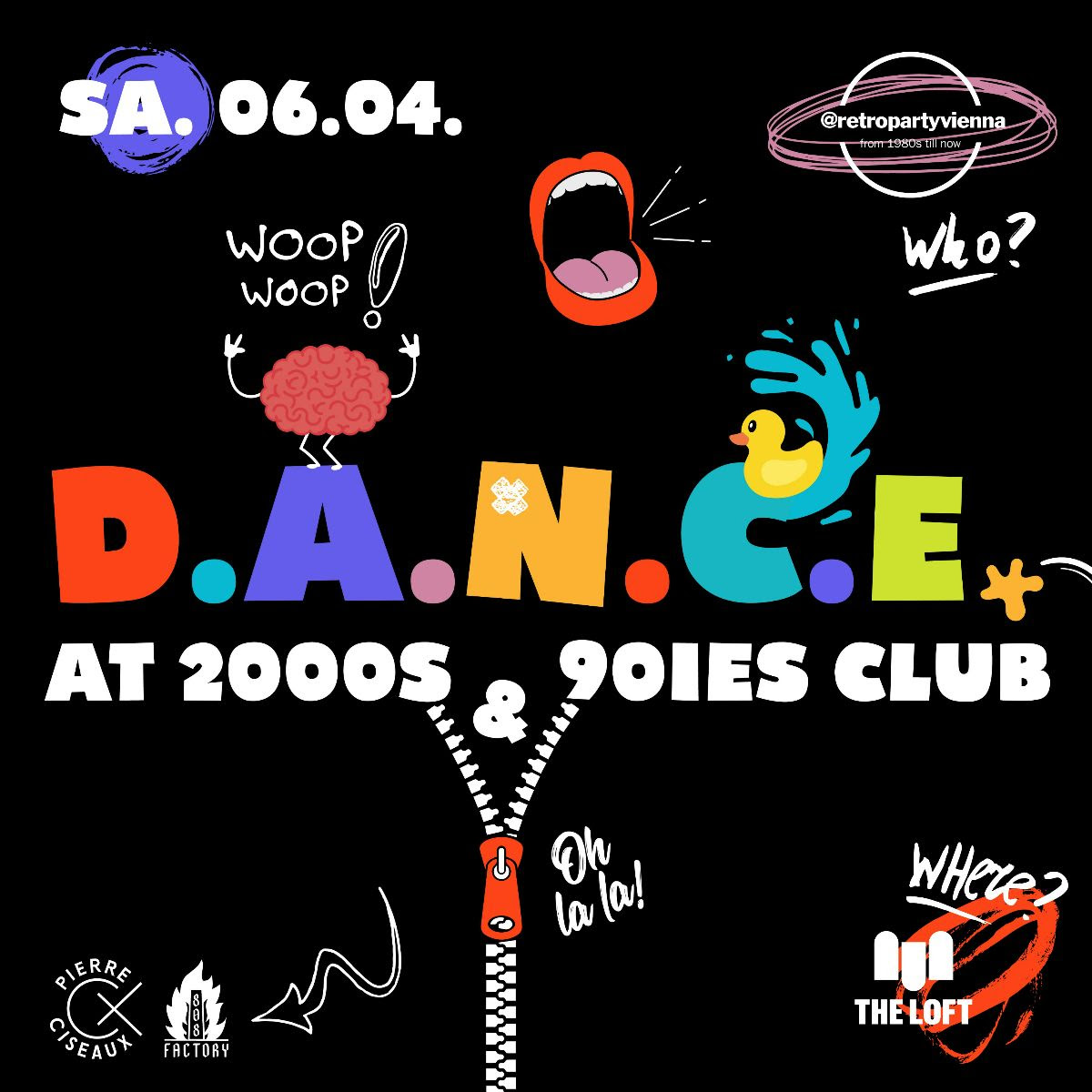 Samstag, 14. Dezember 2019 ab 21:50h
@ The Loft, Lerchenfelder Gürtel 37, 1160 Wien | www.TheLoft.at/sat
FB-Event: www.facebook.com/events/518474818896571
Ja: Es weihnachtet. Aber: "Last Christmas" werdet ihr bei uns nicht hören. "All i want for Christmas is you" aber schon vielleicht gleich mehrmals. Anderes aber auch – von "Come as you are" bis "Hyper Hyper" ist beim letzten regulären 90ies Club im Jahr 2019 alles möglich 😉
Wie immer beim LoftSamstag gilt: von 21:50h bis 22:00h bekommt ihr euren Eintrittsstempel um nur 1€!
——————
90er ROCK.floor DJs: Alexandra Augustin, Lucy Dreams, Rockchick77
90s RAVE.floor DJs: Kristof Grandits aka SUPERTRASH, David Jerina
SPECIAL: Gratis Desperados!
——————
Ticketing 1/5/6/8€ – Info hier: http://bit.ly/loftsattix
Vorverkauf (6€): https://ntry.at/shop/LoftSat
Freikarten-Links gibt's bei David Loftsamstag, einfach adden! (www.facebook.com/DavidLoftSat)
——————
Termine
Sa. 14.12. mit ROCK.floor & RAVE.floor
Sa. 21.12. 90ies Club floor @ tba
Di. 31.12. 90ies Club floor @ Die große Loft Silvestergala http://bit.ly/loft1920
Sa. 11.01. 30 Jahre 90er
——————
(VIENNAs FIRST) 90ies CLUB – Das Original seit 2003!
Immer am 2. und 4. Samstag des Monats bringen wir euch auf zwei Floors die Geister der 90ies zurück. Die guten und die bösen: Von Euro-Trash bis Westcoast Rap, von Boygroup bis Girlpower, von Kurt Cobain bis DJ Bobo: bei uns kriegt ihr sie alle – und könnt dazu tanzen, bis euch die Buffalos rauchen. Auf dem oberen Floor gibt es ab 21.50h abwechselnde Programmspecials. Mal regieren Grunge-Gitarren, College Rock und Punk. Mal sind Rap und RnB mit funky Beats und coolen Rhymes angesagt. Auf dem unteren Floor liefern wir euch ab Mitternacht immer puren Pop- und Dance-Sound aus 1990 bis 1999.
—————–
(VIENNAs FIRST) 90ies CLUB sounds like
112 | 2Pac | 2 Unlimited | 20 Fingers | 4 Non Blondes | 5 Sterne Deluxe | A Tribe Called Quest | Aaliyah | Absolute Beginner | Ace Of Base | Adina Howard | Aphex Twin | Armand Van Helden | Arrested Development | Aqua | Backstreet Boys | Bad Religion | Basement Jaxx | Beastie Boys | Beck | Big Pun | Björk | Blackstreet | Blink 182 | Bloodhound Gang | Blur | Blümchen | Brandy | Busta Rhymes | C+C Music Factory | Captain Hollywood Project | Captain Jack | Ce Ce Penston | Chemical Brothers | Coolio | Crystal Waters | Culture Beat | Cypress Hill | Daft Punk | David Morales | De La Soul | Destiny's Child | dEUS | DJ Bobo | DJ Hooligan | DMX | Dr. Alban | Dr. Dre | Dru Hill | Erasure | E-Rotic | EMF | Die Fantastischen Vier | Edelweiss | Everything but the Girl | Faith Evans | Faithless | Die Fantastischen Vier | Fatboy Slim | Felix | Foo Fighters | Foxy Brown | Freundeskreis | Fun Factory | Gala | Garbage | Ginuwine | Green Day | Guns'N'Roses | Haddaway | Heavy D & The Boyz | Hole | House of Pain | Ini Kamoze | Inner Circle | Jamiroquai | Janet Jackson | Jay-Z | Jazzy Jeff & the Fresh Prince | Jermaine Dupri | Jestofunk | Jodeci | Josh Wink | K7 | Kriss Kross | La Bouche | Lauryn Hill | Leftfield | Leila K | Lenny Kravitz | Lil Kim | Live | LL Cool J | Lucilectric | Magic Affair | Marilyn Manson | Mark Morisson | Marusha | Mary J. Blige | Mase | Massive Attack | Masterboy | Masters At Work | MC Hammer | MC Lyte | Metallica | Missy Elliot | Moby | Molella | Monica | Mousse T. | Mr. Big | Mr. President | Mya | Nas | Naughty By Nature | New Edition | Next | Nine Inch Nails | Nirvana | Notorious BIG | Oasis | The Offspring | The Outhere Brothers | Pavement | Pearl Jam | Perplexer | Pras Michael | Primal Scream | Prince Ital Joe feat. Marky Mark | The Prodigy | Puff Daddy | R. Kelly | Rage Against the Machine | Red Hot Chili Peppers | Rednex | Reel 2 Real | The Real McCoy | Robin S | Roxette | Salt-N-Pepa | Schwester S. | Schönheitsfehler | Scooter | Scorpions | Shabba Ranks | Shaggy | Shai | Silk |Skee-Lo | Snap | Snoop Doggy Dogg | Snow | Soul For Real | Soundgarden | Spice Girls | Stereo MCs | die Sterne | Stone Temple Pilots |Sven Väth | SWV | Tag Team | Technohead | Technotronic | Texta | Tic Tac Toe | TLC | Tocotronic | Todd Terry | Type O Negative | U96 | Ugly Kid Joe | Usher | Urban Cookie Collective | Vanilla Ice | Vengaboys | Warren G | Westbam | Whigfield | Will Smith | Wu-Tang Clan | Zhane …