Open Air Gelände Schlierbach
Schulstrasse, 4632 PICHL BEI WELS
Jetzt Tickets sichern unter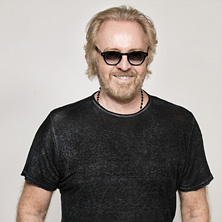 UMBERTO TOZZI
Considered as one of the most important singers and songwriters in the Italian panorama, Umberto Tozzi was born in Turin on 4th March 1952.
His music career starts on 1968 when, just 16 y.o., he reaches the Off Sound Band, a rock band composed by young talented musicians. In Milan he met Adriano Pappalardo, with whom he creates a 13 elements band touring all around Italy.
On 1974 he gets his first success as composer with the song "Un corpo e un'anima", written with Damiano Dattoli, interpreted by Wess & Dori Ghezzi. The song wins the popular TV show "Canzonissima" and becomes a real hit.On 1976 he debuts as solo singer with the album "Donna Amante mia", where it is included a very popular song written by Umberto for Fausto Leali, "Io camminerò".
1977 is the year of "Ti amo", one of the most popular songs by Umberto Tozzi, which gets the top of the Italian hits for more than seven months, getting new records of Italian sales and winning the popular TV show "Festivalbar".
On 1978 the song "Tu" is a confirmation, the song is a new big hit.
On 1979 he creates the song that probably represents his biggest hit ever: "Gloria". This song, interpreted by Laura Branigan, gives the chance to Umberto to cross Italy reaching the rest of the world.
His success goes on in the first Eighties with the album "Tozzi (Poste '80)", thanks the song "Stella stai". In the same year he starts a big live tour in Italy and Europe, publishing the live album "Umberto Tozzi in concerto".
On 1981 the new song "Notte rosa" is more rock and the whole album confirms his International success.
"Eva", produced by Lucio Fabbri from PFM, one of the most important Italian bands, is dated 1982. In the same year Umberto is awarded with the GOLDEN GLOBE thanks his more than 27 millions copies sold in just 5 years.
On 1983 the news hit is "Nell'aria c'è" and the year after the new album is "Hurrah". After this album Umberto decides to stop a bit to find new inspirations.
1987 is definitely his year. Umberto comes back to the big success with two hits: "Si può dare di più", written by Umberto and performed together with Gianni Morandi and Enrico Ruggeri, with which he wins the prestigious Festival di Sanremo, and "Gente di mare", performed with Raf, with which he gets the third award at the Eurovision Song Contest.
On 1988 the best "Minuti di un'eternità" is again at the top of the hits and in the same year his new album comes out, "Invisibile". In the same year he also publishes a second live album, "Royal Albert Hall", recorded in the prestigious theatre in London. This album is still considered one of the best live albums ever in Italy and gets more than 300.000 copies sold.
His career goes ahead in Nineties with more sophisticated melodies like "Gli altri siamo noi" (more than 400.000 copies sold), dated 1991, which was presented at Sanremo song festival. In the same year a new cd best "Le mie canzoni" comes out reaching 4 platin awards in Italy and abroad.
On 1994 Umberto Tozzi creates a new album, "Equivocando", which remarks his collaboration with Greg Mathieson, bringing Umberto to win again the Festivalbar with the song "Io muoio di te", resulting the fourth album more sold in 1994 with more than 350.000 copies sold.
"Il Grido", dated 1996, is considered one of the most beautiful albums of his production. The album gets a platin award. The year after he starts a collaboration with the most popular Italian lyricists, Mogol, for the new album "Aria e cielo", more melodic than the previous album. The single is "Quasi quasi".
On 1999 a new best of, "Bagaglio a mano", where he sings with a new modern look his best hits. With his participation at Sanremo song festival 2000 he remarks his importance in the Italian panorama with the song "Un'altra vita". The year after a best of his hits comes out in Spain: "Grandes exitos", where he sings his most popular songs in Spanish language. The album remains in the national hits for 8 months selling more than 150.000 copies.
On 2001 his song "Ti amo" is included in the French movie "Asterix and Obelix", performed in duet with Monica Bellucci.
On 2002, still with "Ti amo", he makes a new duet with Lena Ka, selling almost one million copies in France. Right after a new best of comes out, "The best of Umberto Tozzi", including two new songs: "E non volo" and "Angelita", plus three English versions of "Ti amo", "Gloria" and "Gli altri siamo noi". The album reaches the 150.000 copies.
On 2003, due the big demand from the French audience, he makes a duet with Cerenà in the song "Tu", getting a big success and reaching the 200.000 copies sold.
2004, "Le parole", is recorded between Italy and USA. The song is presented at Sanremo song festival and comes out on 2005. The song has a Spanish version also, "Solo palabras", included in a new album with five songs sang in Spanish language.
On 2006 he leaves Warner Music publishing for MBO "Heterogene", a lounge/ambient album. The music project with sophisticated sonorities includes a singular version of "Gli altri siamo noi". In the same year Warner publishes a double album with the 30 years of Umberto's career, "TuttoTozzi", who crosses over the 150.000 copies.
Still on 2006, Umberto realizes the album "Tozzi Masini" with the friend and colleague Marco Masini. The album hosts 16 tracks: one song by Masini sang in duet, six songs by Tozzi sang by Masini, six songs by Masini sang by Umberto and three new songs. The two singers get a nomination at the Venice Music Awards 2006, winning the trophy for the best tour of the year.
2009 is a year full of projects: on 23 January the new album "Non Solo Live" comes out for Universal, it's a best of his most important live performances, and on 4 April his first autobiography comes out, "Non solo io". On 18 September, still for Universal, the new album "Superstar" comes out: 16 tracks formed by "B-side" songs, re-arranged together with Matteo Gaggioli, plus a live version of "Ti amo", for a very long time main jingle of Vodafone Italy.
"Yesterday Today" is the new album dated 2012. It's a double album composed by one first cd with studio recording songs and a second cd with a best of re-arranged hits. The French version of the cd is included a duet with the popular French singer Francis Cabrel, "Petite Marie".
Between 2012 and 2014 Umberto Tozzi is touring all over the world singing and celebrating his whole career. On December 2012 his first DVD comes out, recorded during a sold out live show in Padua.
January 2014, the song "Gloria" is chosen by Martin Scorsese for his movie "The wolf of Wall Street", where Leonardo Di Caprio, Oscar nominated, plays the main role.
After almost three years, Umberto Tozzi comes back with a big enthusiasm and a new project, "40 ANNI CHE TI AMO ", published by Momy Records and distributed by Sony Music. It contains a special duet with the American Superstar "Anastacia".
In his career, Umberto Tozzi has sold more than 80 millions of copies in all over the world.